This post contains affiliate links which means if you make a purchase using a link on this page I may make a small commission. For more information please read my full disclosure 
You're a Mean One Mr. Grinch! How the Grinch Stole Christmas is a favorite in our home. My husband and I both grew up reading the book and watching the original Grinch cartoon on television each Christmas. When we had children we decided to take our love for the Grinch a step further by incorporating a day dedicated to the green guy as part of our Christmas traditions. In this post you will learn everything you need for Grinch themed day of your own. Each year we set aside one day where we focus our attention on all things Grinch which includes crafts, food, activities and ends with us watching Grinch as a family.
It's something my kids look forward to each year and I'm sure your family will too!
In my heart, I know my kids are only going to be little for a short time so I want to do everything I can to make Christmas as magical as possible. Having a day dedicated to one of their favorite Christmas characters gets them so excited which makes me so happy to set it up for them. Hopefully, you will find inspiration in this article to host your own version of a Grinch Day. If you do, I'd love to hear about it in the comment section. MERRY GRINCHMAS!
This post may contain affiliate links which means if you make a purchase using a link on this page I may make a small commission. 
Here's everything you need for Christmas Themed Day.
Grinch Party Supplies
First and foremost you need the decor to set the tone of your fun themed day! My kids love it when I use speciality plates and napkins to serve our food. Here you will find everything you need to make your Grinch Day even better! These cute and festive party supplies help add to an already fun filled day. Everything I listed can easily be found on Amazon or printed at home from ETSY. All I want is to help making setting up your very own Grinch Day  for your family as simple as possible.
Let's get into it!
GRINCH DAY DECOR
Set the scene for your Grinch Day party with this adorable Welcome To Whoville banner. You can redesign a room in your home to become Whoville for the day starting with this super inviting banner. Imagine your kids feeling like they've been swept away to Whoville – they are going to L-O-V-E it!
What better way to kick off Grinch Day then with the Grinch himself. This Grinch shaped balloon is the newest addition for our day that I'm looking forward to most. I cannot wait to see my little gals reaction when she wakes up and sees this guy for the first time.
PRO TIP: Invest in a balloon pump for the house. Last year I purchased this pump because I found myself spending an insane amount of money on balloons from all the party supply stores when I could do it myself at a home. I got my money's worth in the first month alone. I HIGHLY recommend it.
I got a bunch of these Grinch head balloons to sprinkle throughout the house so our pal is always with us on the day we dedicate to him.
This paper goods kit includes everything you need to set a beautiful Grinch themed table.
This Merry Grinchmas Balloon Kit is an easy way to add some fun temporary Grinch decor to your home.
What's a party without cups? You can make your family a delicious Grinch punch from Kitchen fun with my 3 sons and then serve it in these perfectly themed cups.
One of the easiest ways to add a bit of Grinch-ness to your exsisting Christmas decor is with this Grinch Christmas tree decor set. You can add it right on to your tree with your regular ornaments.
Photo backdrops are always a great idea on fun themed days. This Grinch backdrop is super easy to hang and will allow for some great photo ops for you and your family.
Add a whole new layer of fun to Grinch Day with this adorable Pin A Heart On The Grinch Game. It's played the same way as pin the tail on the donkey but with a bit of Grinch flair. My son is in junior high school and still looks forward to this yearly tradition.
An easy way to add some Grinch decor to your home is with these Grinch swirly pieces. They are simple to hang but pack quite a punch.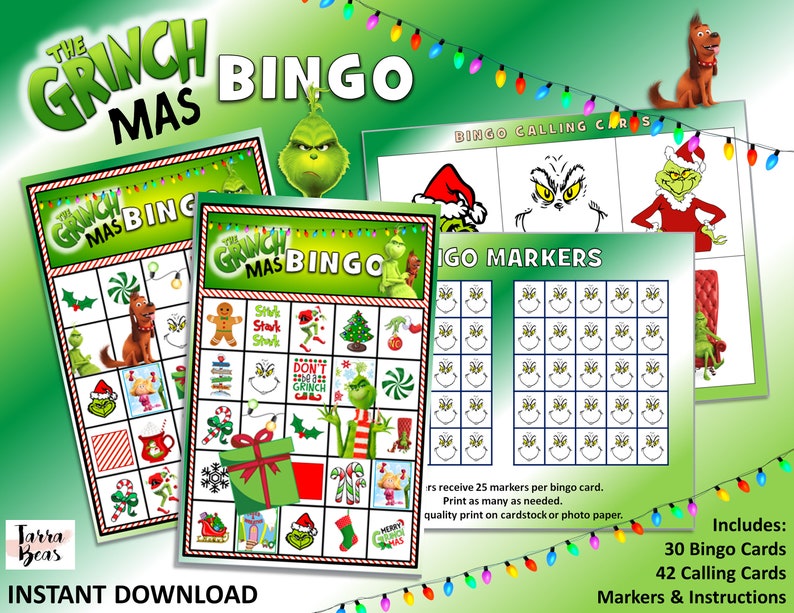 Grinch Bingo is another playful addition to already fun day. This Grinch Bingo set from ETSY gives you everything you need to put a Grinch spin on a classic game.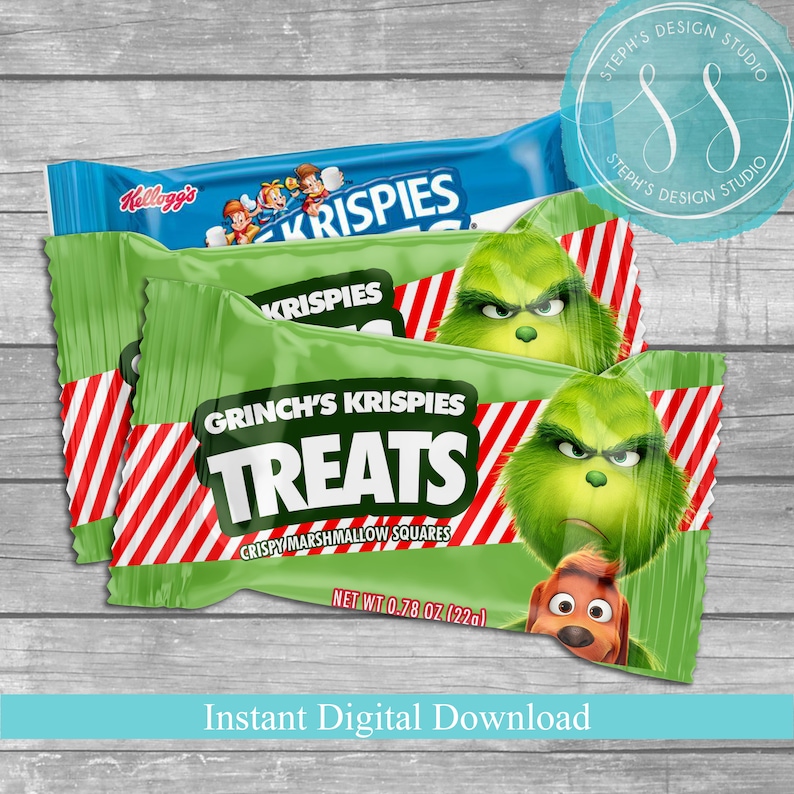 Grinch Day is allll about the treats – am I right? This year I plan on adding a full on dessert table for one of our favorite Christmas traditions. Since the kids are getting older they were allowed to invite two friends to Grinch Day this year so I want the dessert table to be extra inviting. Rice Krispy treats are always a hit so these Grinch Rice Krispy Treat wrappers from ETSY are a no brainer. They are a digital download so you can print them right at home making them so easy to use.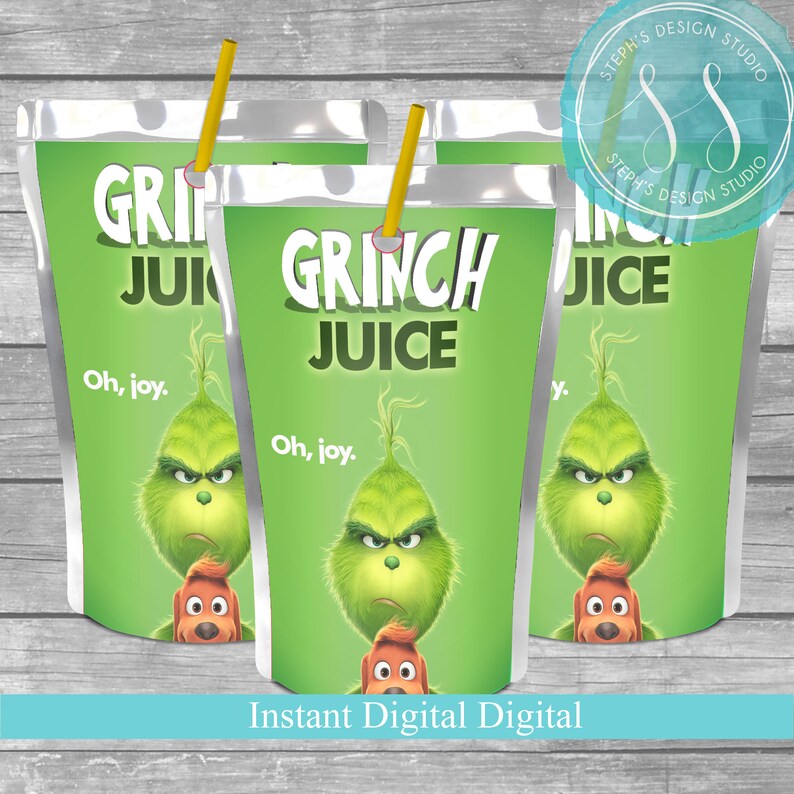 Grinch Juice – Capri Sun Labels
Continuing with the Grinch Day  snacks and treats – here's another fabulous Grinch digital download from ETSY. You can now print Capri Sun covers with this adorable Grinch graphic. How cute are these Grinch juices going to look lined up on your dessert table? I think this is one of the best new ideas I found this year. I can't wait to see these in action.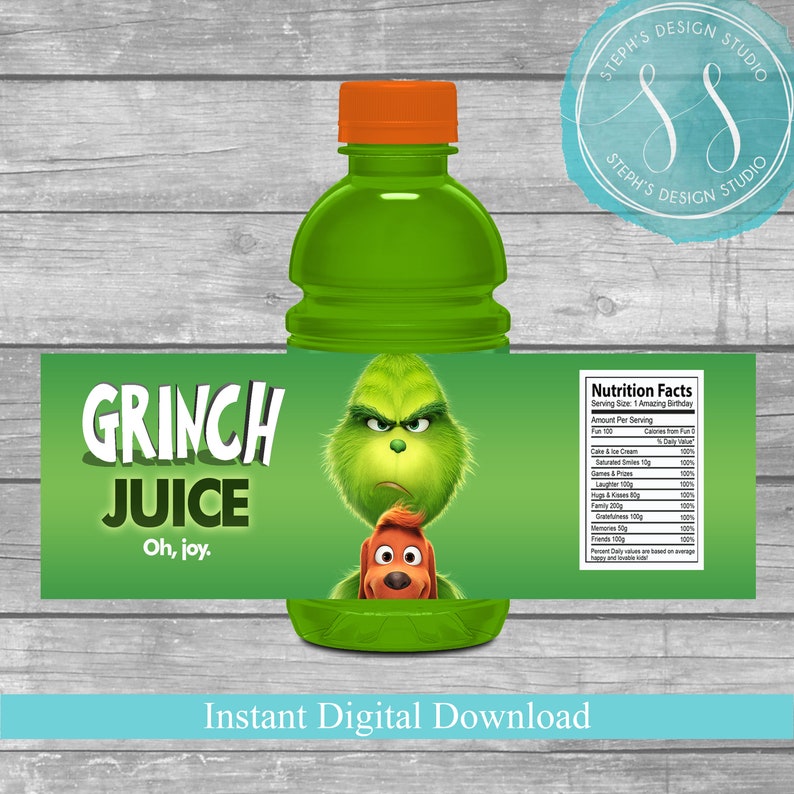 If you are more of a Gatorade fan vs. Capri Sun you are in luck!  I found these fabulous Gatorade labels you can use instead. The are also a digital download you can print from home. The only supplies you need to use all of these incredible digital paper supplies I found are a printer, scissors/paper cutter and double sided tape. The instructions to use these labels could not be easier!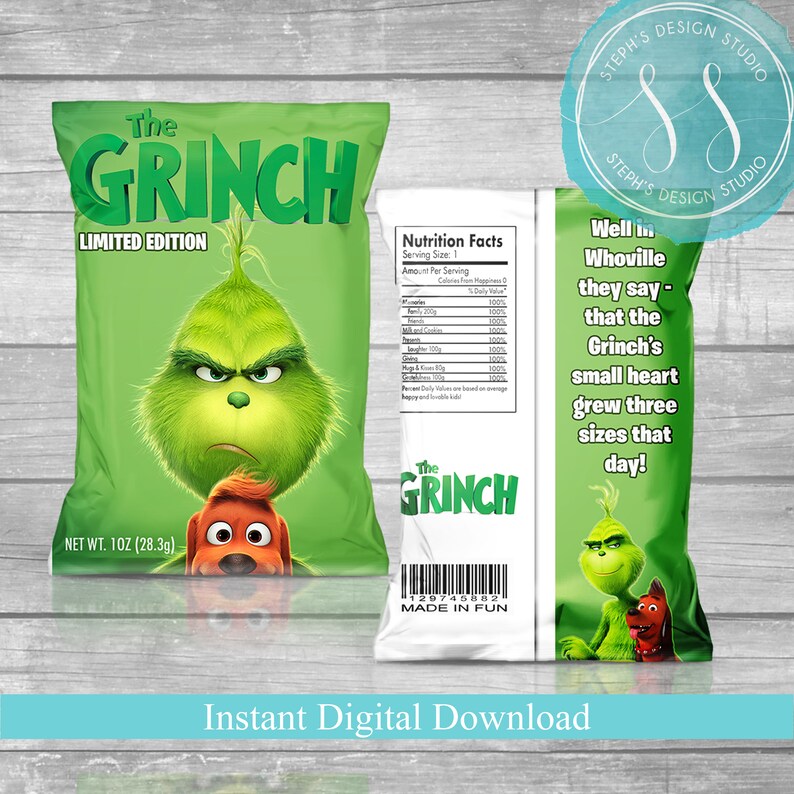 Our dessert table vision is really coming together thanks to these digital downloads I found on ETSY. Another cute addition to your Grinch dessert table are these Grinch chip bags. You can add these to your favorite chips for a fun holiday look.
Are you someone like me that decorates your coffee bar/area for the holidays? If so, you must check out this Grinch hot cocoa bar kit – its has everything you need to transform your coffee nook into the most adorable little Whoville coffee shop.
Another fan activity you can add to this year's Grinch Day are these Grinch sticker sheets. You can create your very own Grinch (2 versions), Cindy Lou Whoo, Max or you can decorate your own Christmas tree. Stickers are fun for all ages making this Grinch set a no brainer for this holiday season.  Secretly, I can't wait for these to get here – I LOVE creating fun scenes with sticker kits like these. I really am a kid at heart which makes creating these fun themed days all that more exciting! I'm sure you can relate ♥♥♥
G
One great way to set the mood for your Grinch day. Balloons are so much for kids and these Grinch shaped balloons are perfect!
Grinchmas 2022 Photobooth Frame
If you are an avid reader of The Inspired Holiday you know I loveeee a good photobooth or photo op because when all is said and done all you have left are photos. This Grinchmas photobooth frame is a must if you plan on taking even one photo on your Grinch day this year. Photo frames like this also give even the most photo shy kids the boost they need to want to take fun photos.
Welcome your guests/family to this year's Grinch Day  with this festive door covering. They will know exactly what to expect when they see this guy on your front door.

These Grinch dinner plates are perfect to serve all the Grinch themed food I'm going to show you in the next section.Grinch Dessert Plates
If you like to create a party station with lots of decorations and party goods than these dishes are a must.
Speaking of dessert – let's talk food! Grinch food that is….
Grinch Themed Food
You can't have a day dedicated to the Grinch without delicious Grinch inspired treats. Here are some of our favorite Grinch themed food.
Make your favorite cake and add this beautiful Grinch cake topper to help make it Grinch themed for the day.
Same goes for this super cute Grinch cupcake toppers. Whip up your favorite cupcake recipe and add this festive themed toppers.
Grinch Themed ACTIVITIES
Grinch Gift Ideas


Grinch Blanket




Final Thoughts
Finding fun new Christmas traditions is something I look forward to each year. Having a day dedicated to the Grinch is something the entire family looks forward to each year. We love the mean on in our home.