This post contains affiliate links which means if you make a purchase using a link on this page I may make a small commission. For more information please read my full disclosure 
Are you tweens and teens begging for Wednesday birthday party this year? You have come to the right place – wait until you see all the cool and moody things I have curated to help you plan the ultimate gothic soiree. We leave no stone unturned so you will be able to find everything you need their dream of having an awesome Wednesday birthday party into a reality.
The new show all about Wednesday Addams has taken Netflix by storm. In this new adaption of the classic gothic character you really get to know Wednesday as a person and many people relate to her. When a television show rises in popularity as quickly as Wednesday has its only natural people start wanting their birthday party planned around their new favorite character. Here is a step by step guide to hosting a Wednesday birthday party with ease.
Hosting a Wednesday Addams birthday party can be a fun and unique way to celebrate a special occasion. Here's a step-by-step guide to help you plan the perfect Wednesday Addams party:
Step 1: Choose the Venue
Choose a venue that suits the Wednesday Addams theme, such as a dark and moody space like a Gothic mansion or a spooky forest. Alternatively, you can transform your own space with black and white decorations, cobwebs, and eerie lighting.
Step 2: Invitations
Design invitations that match the Wednesday Addams theme, with a black and white color scheme and eerie fonts. Encourage guests to dress up in their best Wednesday Addams-inspired outfits, such as black dresses, white collars, and dark tights.
The best place to go for themed invitations is ETSY. They have a fabulous selectin of Wednesday party invitations. Here's a small example: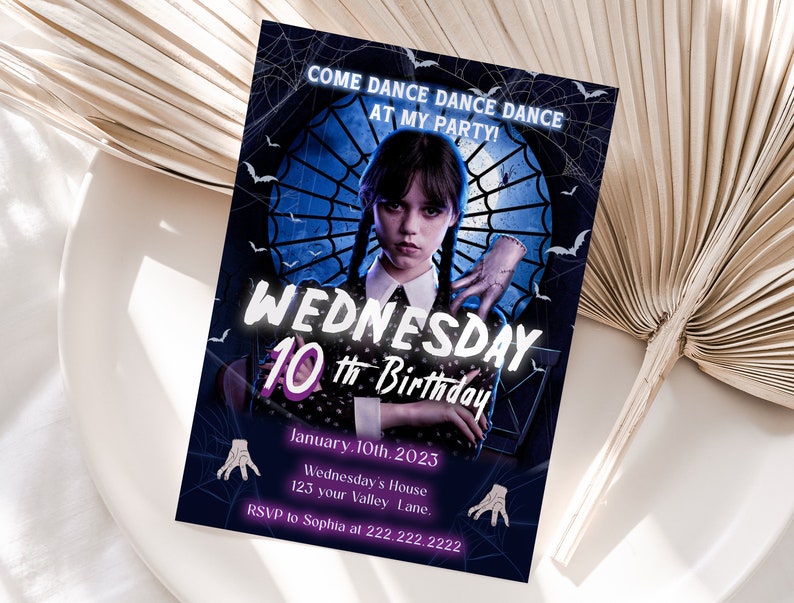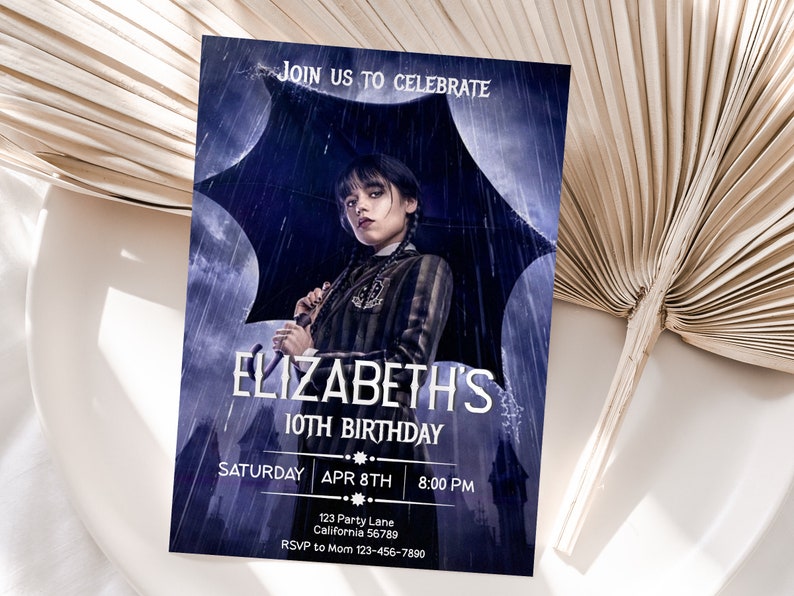 Step 3: Decorations
Decorate your party space with plenty of black and white decorations, such as spiderwebs, bats, and creepy dolls. Use black and white streamers, balloons, and tablecloths to create a cohesive look. You can also add some personal touches, like a "Happy Birthday" banner with Wednesday Addams' face on it.
Finding Wednesday party decorations can be a bit difficult since this is such a new show but thankfully we were able to curate a list of decor that will help you set the mood for your party with ease.
The party kits from Amazon are always a great spot to start when it comes to decorating any party and they already have a fantastic selection of Wednesday party kits like this one that include an array of items to help you set the tone.
You can keep your decor simple with this photo backdrop and ballon arch. Sometimes when it comes to party decor less in more. This party set might be simple but it certainly makes a statement.
If you are a long time follower of The Inspired Holiday and our party guides you know I love a good 'ole fashioned birthday bannner and simple swirl decorations. This Wednesday banner and hanging swirl set is a great idea to add to your decor idea for your very own Wednesday Addams party.
How can you have a Wednesday party without Thing? Simple – you can't. This adorable sidekick can be set up anywhere you wish or even better you can keep moving him throughout the party – leaving your guests on their toes.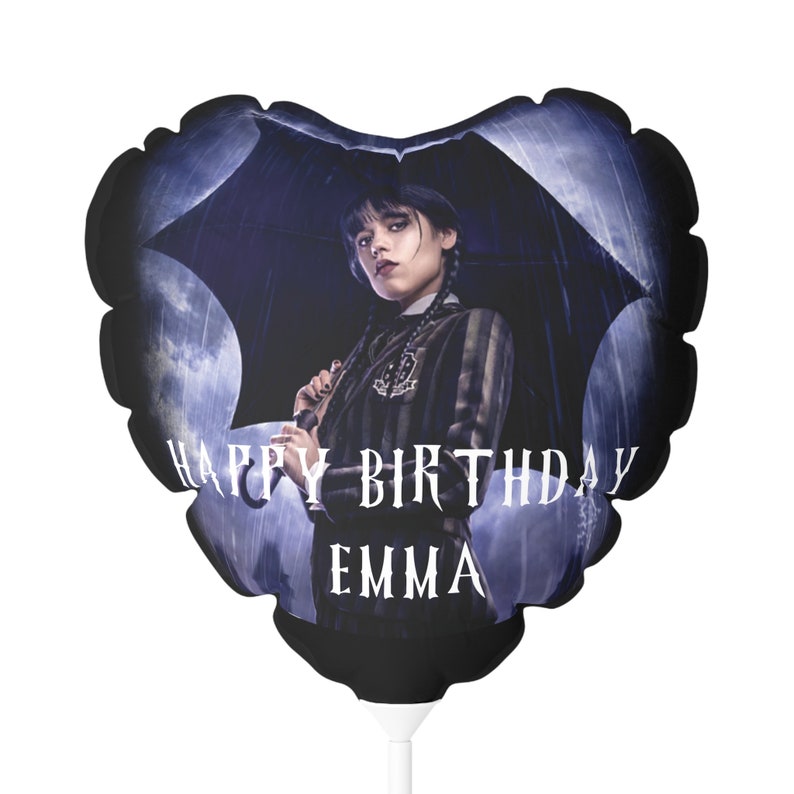 Balloons are always a good idea. Something about balloons makes everything more festive so imagine my delight when I found these heart-shaped Wednesday balloons on ETSY.
Step 4: Food and Drinks
Serve creepy yet delicious treats like black cupcakes, spiderweb cookies, and "poison" cocktails. You can also offer some traditional Halloween candies like candy corn and pumpkin-shaped chocolates. Consider setting up a candy bar with jars of different treats for guests to fill up their bags.
You need something to hold all of the delicious food and drinks for your guests and we found the cutest Wednesday tableware for your party.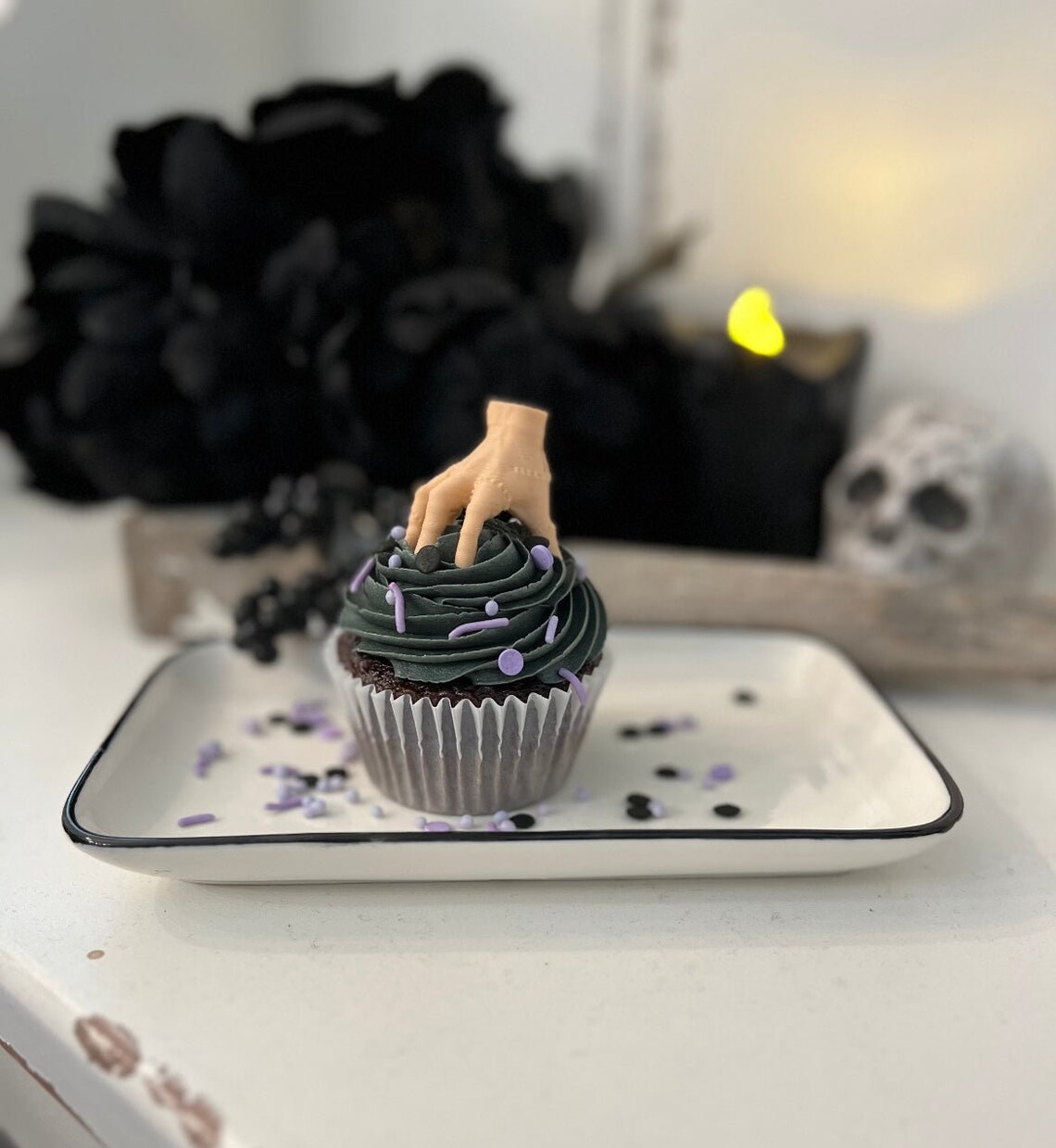 Step 5: Entertainment
Host spooky games like a "guess the monster" game or a "create your own creepy doll" craft station. You can also have a screening of the Addams Family movie or TV show. Consider hiring a tarot card reader or a palm reader to add an element of mysticism to the party.
Wednesday Party Games
What a fun play on the classic pin the tail on the donkey but instead its pin the Thing on Wednesday.
Photobooths are a great source for party entertainment and there is no shortage of Wednesday themed backdrops on Amazon to help you create one for your party.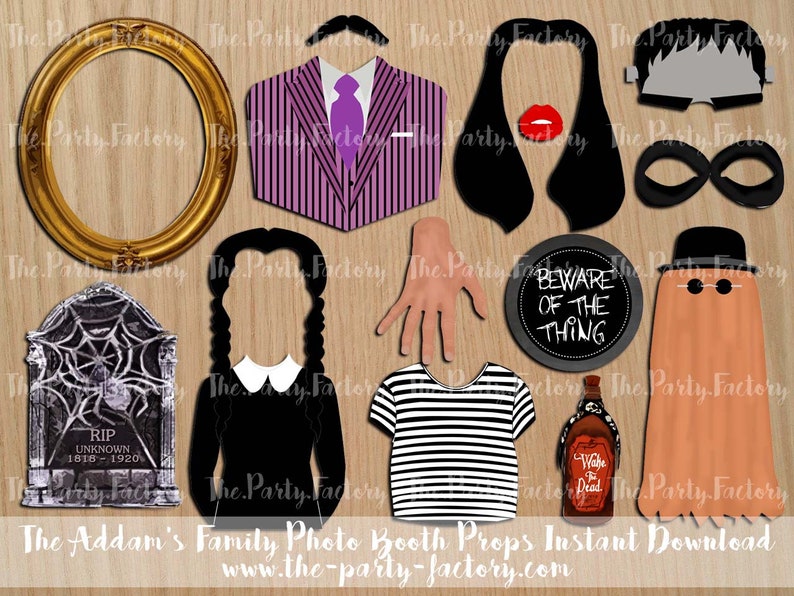 Step 6: Party Favors
Send your guests home with a fun party favor that matches the Wednesday Addams theme. For example, you could give out black and white striped socks, spider rings, or mini voodoo dolls.
First, you need something fun and festive to house your party favors and what better than this perfectly themed favor box from Amazon?
Temporary tattoos always make for a fun pary favor and this selection of Wednesday tattoss has a little something for everyone.
These asthetic Wednesday stickers are right on trend making them a great choice as part of your party favors.
Step 7: Birthday Cake
Make or order a birthday cake that fits the Wednesday Addams theme, such as a black and white cake with spiderweb designs or a cake shaped like a creepy doll.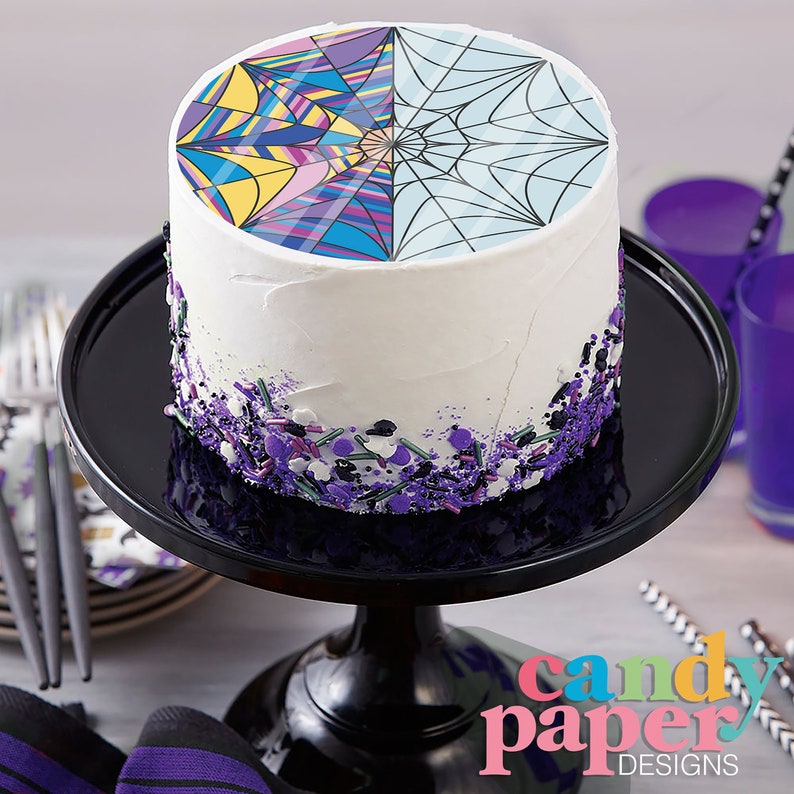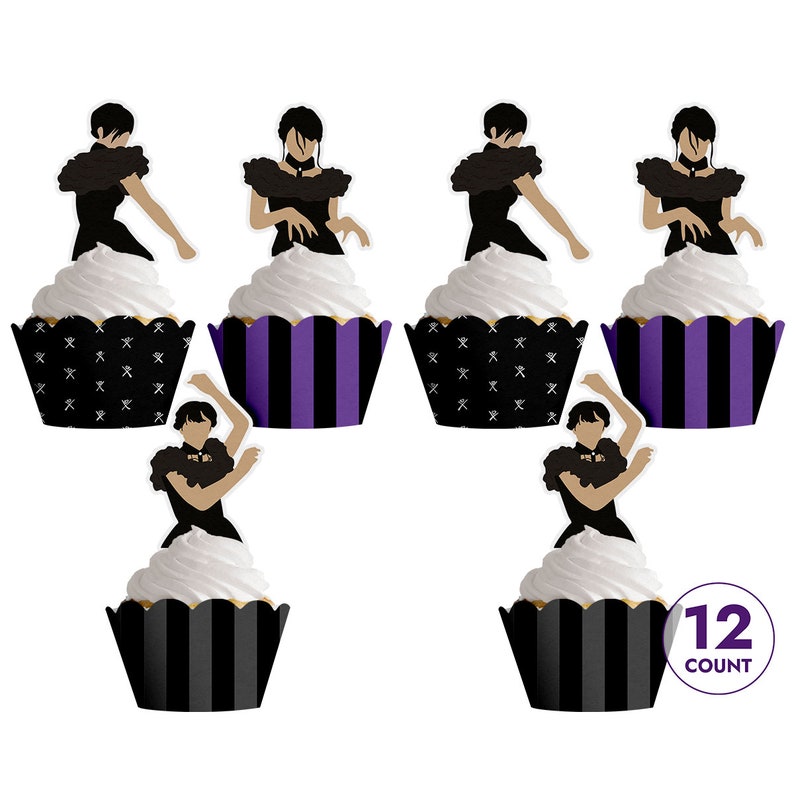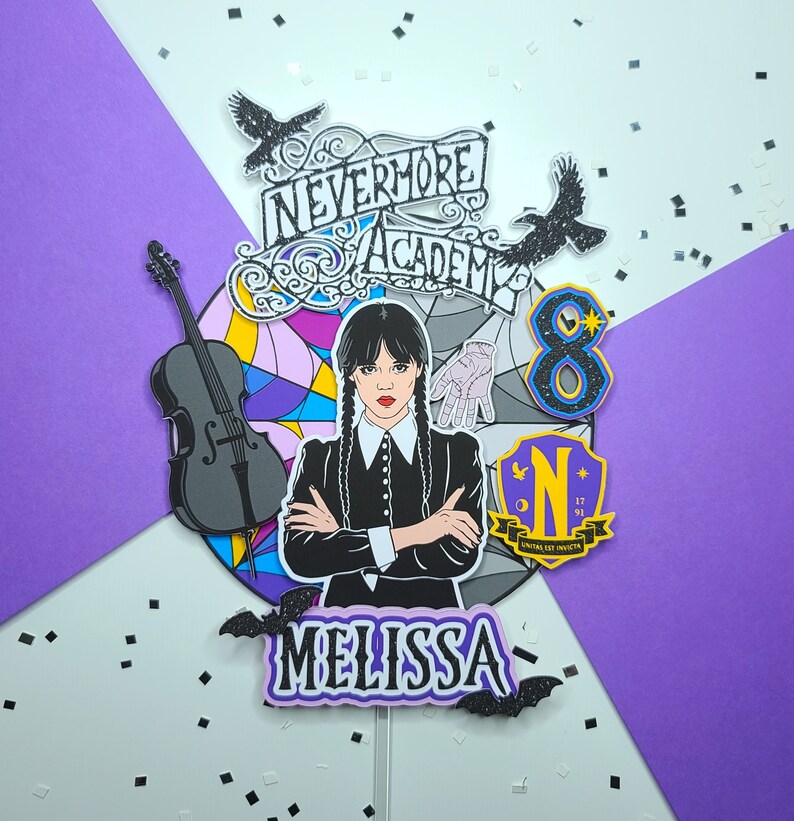 Hosting a Wednesday Addams birthday party can be a fun and creative way to celebrate a special occasion. With these tips and ideas, you can plan a memorable and spooky party that your guests will never forget.