This post contains affiliate links which means if you make a purchase using a link on this page I may make a small commission. For more information please read my full disclosure 
Looking for magical Christmas Eve activities for families?
Christmas Eve activities and traditions are a great way to make this day even more magical for your family. Remember when you were a child and a feeling of magical anticipation filled the air? Imagine if you can make that day even better for your own children. Well, you can!
It's no surprise that I L-O-V-E Christmas and do everything in my power to extend the magic of the season as long as I physically can. What's not to love? Extra time with my favorite people, delicious found, memory-making activities, and bright shining lights. Everything about Christmas warms my heart. Christmas Eve is a day my kids look forward to every year and a lot has to do with the traditions I'm about to share with all of you.
From leaving out cookies for Santa, to opening a gift from Mom and Dad, making reindeer food or jumping into a new pair of Christmas jammies – there's a Christmas Eve tradition for everyone. 
Wait until you see all of the fun memory-making Christmas Eve traditions you can start with your family this year. 
Christmas Eve Traditions to Try This Year
Christmas Eve Boxes –  One of my traditions I started for my kids are our Christmas Eve boxes. Our children wake up on Christmas Eve morning to a treat straight from the North Pole a box filled with goodbye goodies from their Elf. This is a tradition I started when my son first got his elf for his 3rd Christmas. We changed it up over the years, but this is something I highly recommend doing with your own family. It doesn't have to cost a lot of money and the kids are almost more excited for their Christmas Eve box than their gifts from Santa …. almost
Here's an adorable option you can get on Amazon to use for your Christmas Eve boxes this year. 
Say Good-bye To Our Elves – After a fun filled month with our buddies from the North Pole it's time to say good-by. This one is always sad for my kiddos. My daughter is straight-up obsessed with her Elf so she always has a hard time saying goodbye, which is why their Christmas Eve boxes come from their Elves. I always create a special goodbye letter for each of my kids from their Elf. These letters go right into their memory boxes for they can share them with their own children one day.
Opening One Present from Mom & Dad on Christmas Eve – Like most kids, my children are filled with excitement wondering what Santa has on his sleigh for each of them this year. A Christmas Eve tradition we started years ago was allowing our children to open one gift from us while they wait for the rest of their presents from the guy with the big red bag. Thankfully, they have yet to catch on that their one gift from us each year is the same thing – a family game for us to play together. Every year each one of my children receives a board game from their wishlist that we can all play as a family.  
Family Game Night- I normally host Christmas Eve at my house for my extended family. A few years we made a joint decision to cut back on the pomp and circumstance and go with a more low-key direction for our family celebration. On Christmas day we have a huge feast, but on Christmas Eve our menu includes an array of delicious yet small and easy-to-eat food. By making the switch we can relax a bit and spend more time having fun! Our Christmas eve fun includes breaking open the two new games they just got as a gift from us. It's such a blast to play as a big group. In addition to the new board games, we always try to find a new Christmas game to play before the night wraps up.
Tracking Santa – There are so many fun Christmas apps, but our favorite is the Santa tracker. Frequently throughout the day, we check to see where Santa is on the North Pole radar. Everyone gets so excited as they see Santa inching closer and closer to our house.
Neighborhood Christmas Lights  We are lucky enough to live within minutes of the World Famous Dyker Heights Christmas light displays. Once our company heads home to get ready for Santa, we head out one last time to check out our favorite displays. We find that it's the perfect way to calm down the kids after a night filled with excitement. 
Matching PJs Once we return home it's time to change into our matching Christmas Eve PJs. Each year the entire family, grandparents included, receive a new pair of matching Christmas PJs to wear on Christmas Eve. Sometimes, depending on our plans, we change into our PJs before game night starts. My kids love wearing their new cozy jams while playing games on Christmas eve. I mean that's the kid's ultimate dream, right?
Since I reopened my shop late last year we decided to do Christmas pajama pants with matching t-shirts this year. My son is getting older and he prefers to wear pajama pants vs menswear style pjs. These shirts came out so cute that I had to put them in the shop for everyone to enjoy. Something about this saying really gets me in the feels. 
Matching Christmas Eve T-Shirts
Santa's Key – Before we start our Christmas Eve nighttime routine we make sure to leave out a magical key for Santa. We live in NYC so we don't have a chimney for Santa, sadly. Instead, I found this magical key that allows Santa to open a locked door with ease. My kids get such a kick out of the "magic" of it all. Christmas truly is such a magical time of year.
Reindeer Food –  Every year my kids get magical reindeer food in their Christmas Eve boxes and right before bed we head outside to sprinkle it on our front lawn. This tradition is great because my kid's truly believe Santa's reindeer might get lost if we don't leave out food for the reindeer to find our home.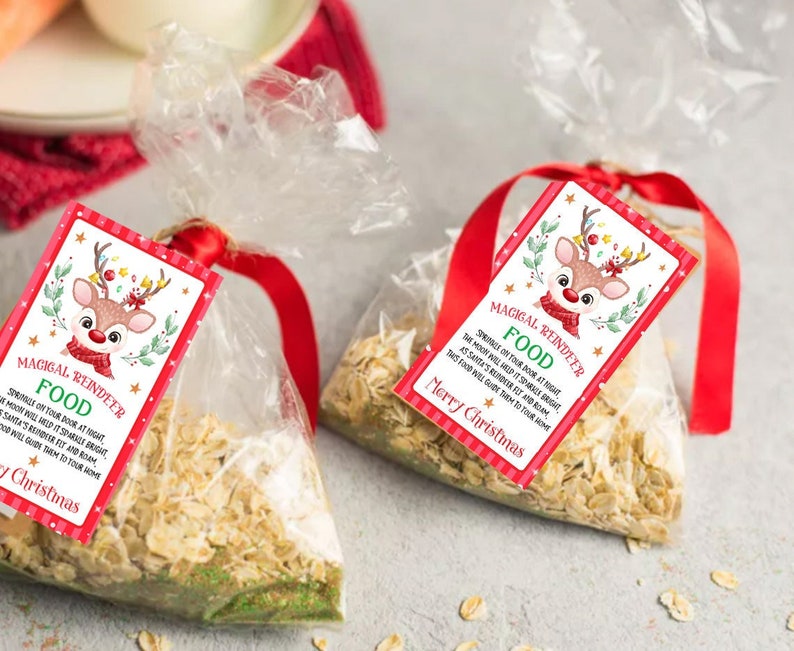 Cookies for Santa – It's not really Christmas Eve until you  leave cookies out for Santa! In our house, we have a special set that's reserved just for Santa's cookies. Each child takes a turn filling it up with goodies for Santa before bed.
Last year a friend of ours gifted us one of these boards from ETSY and I cannot wait to break it out this year for the man with the bag. I love the details and the quality is spectacular.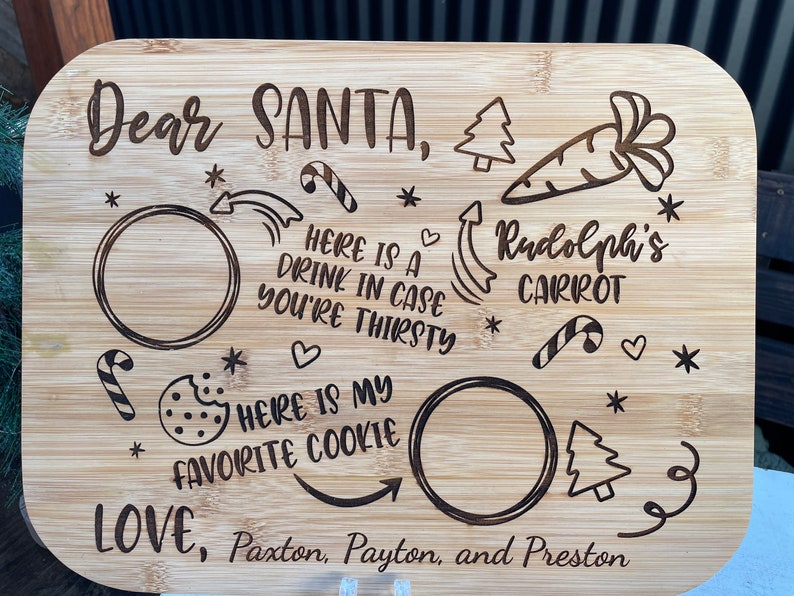 Read The Night Before Christmas – Once we are back inside it's time to head to bed! Santa can't leave presents for any child that's awake. All of us snuggle up in one bed and read The Night Before Christmas as a family. Now that my son can read we all take turns reading a page. This has easily become my favorite moment of the year. It's a beautiful moment to share as a family.
Christmas Eve Traditions Once the Kids are Asleep
Once the kids are fast asleep it's time for my husband and I to start our own Christmas Eve traditions. These are a few fun things we do each year together. As I said, Christmas Eve is a huge deal in our home and this small touches add to the spirit of the holiday. 
Love Actually – As soon as the kid's drift off to sleep it's time for Santa's Elves aka Mom and Dad to get to work. Every year my husband and I watch Love Actually together while we transform our home into a Winter Wonderland for our children. It's a tradition we started the year my son was born and it's something we look forward to every year.
Capture Santa – Once all the presents are laid out for each child I make sure I "Capture Santa". This is a fantastic FREE app I found a few years ago and it's helped my keep the magic alive. My son is at the age where he's beginning to question Santa, but SEEING is BELIEVING so the app has helped tremendously!
Santa's Footprints – With a simple can of fake snow we get to work. My husband puts on his heavy boots and I spray the fake snow right before he walks creating Santa's footprints from out entryway all the way to under the tree. My kids FLIP out when they see Santa has walked through their house.