This post contains affiliate links which means if you make a purchase using a link on this page I may make a small commission. For more information please read my full disclosure 
Pop-its are the fidget toys that have taken the world by storm and now kids are dying to have a pop-it birthday party. Thankfully, tons of pop-it birthday party decor ideas are popping up (hahaha!a) all over the place. I will be honest, it does take a touch of creativity to pull off a fidget themed birthday, but this party planning guide is designed to help you just that. You will need a mix of pop-it birthday ideas and classic party decor to create an epic birthday extravaganza perfect for your fidget loving birthday kid.
Fidget Birthday Party Ideas
Party Invites: Get your guests excited for a poppin' good time with these fun themed birthday invitations.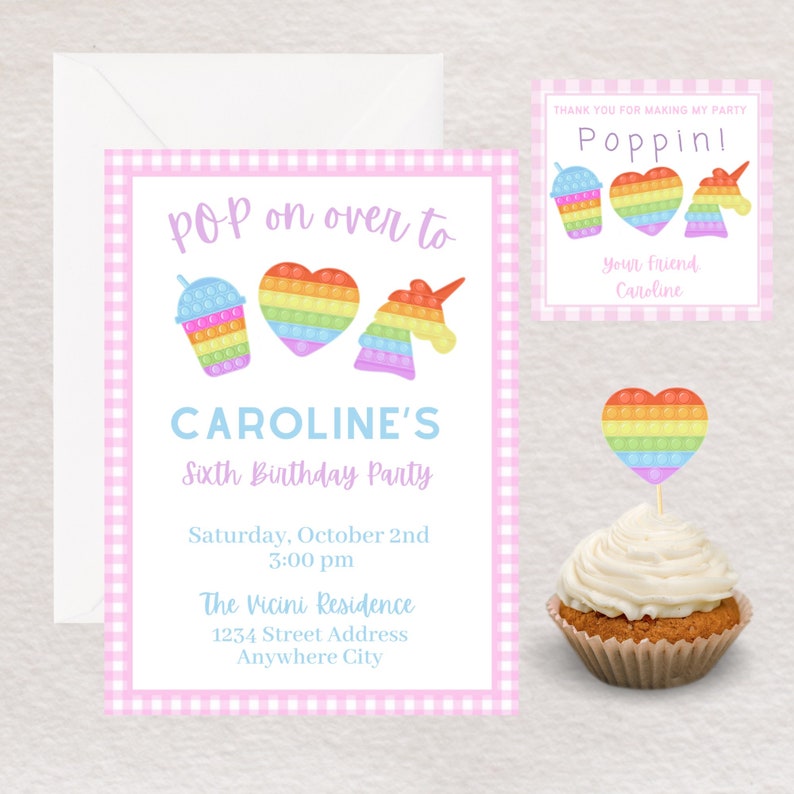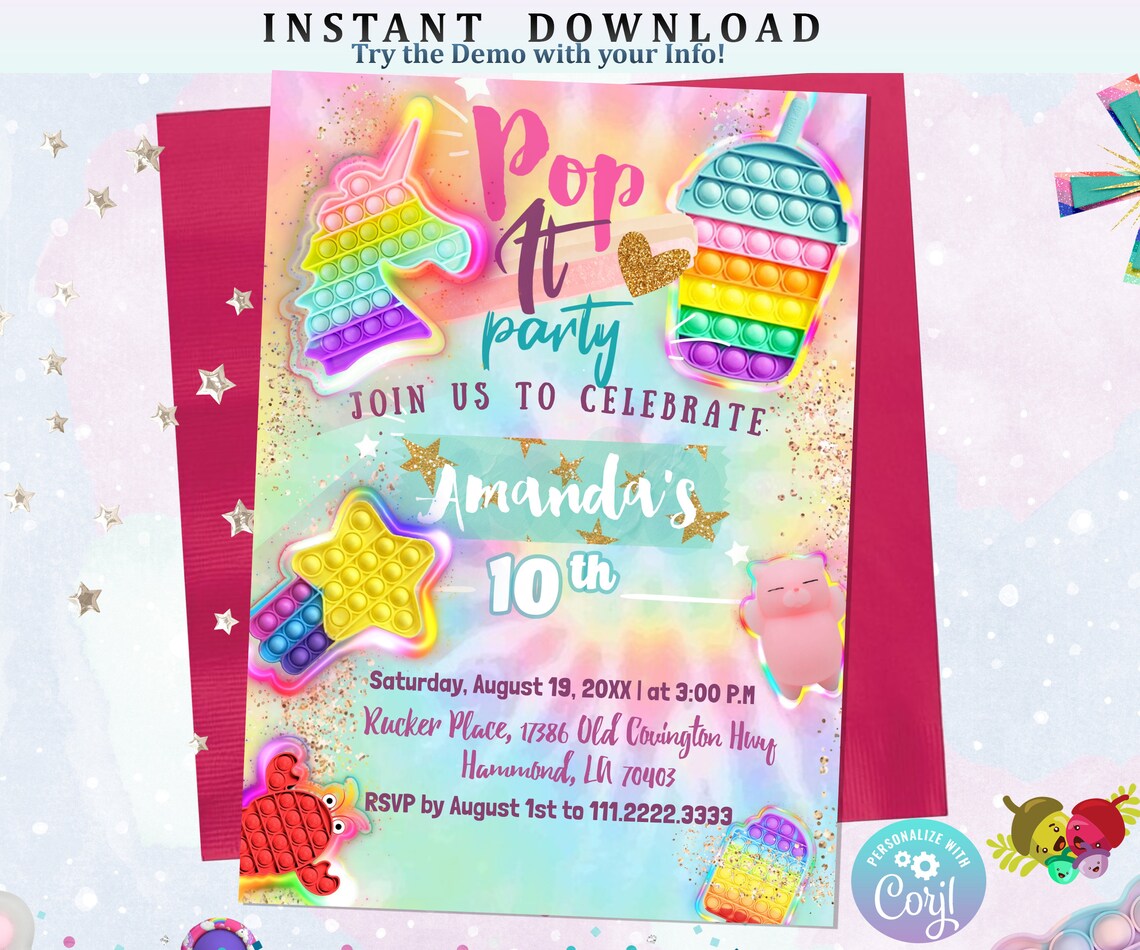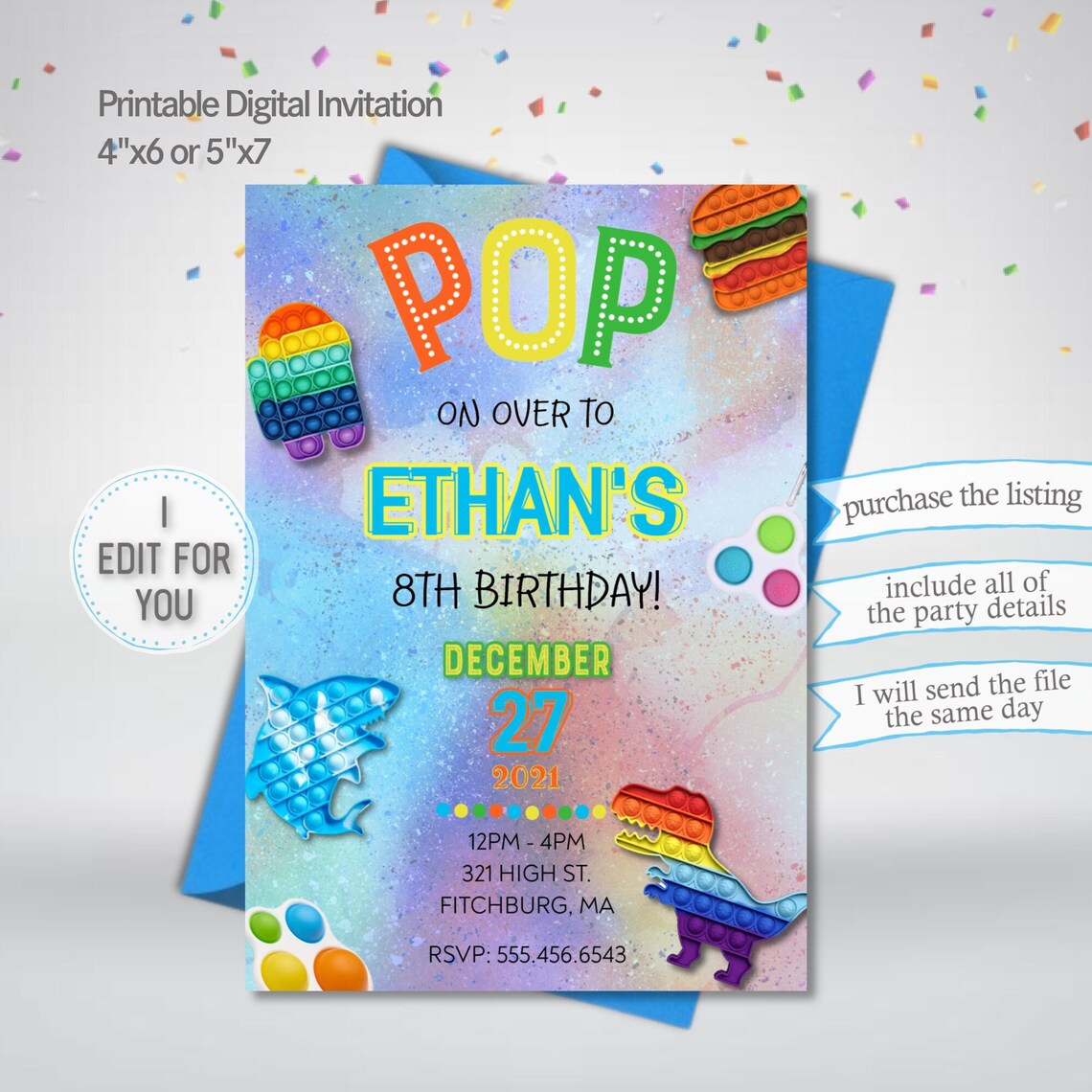 Pop-It Party Shirts – Birthday party shirts are a great way to celebrate their big day and these pop-it themed ones are too cute to pass up. Have the whole family get in on the action with by wearing the family themed party shirts. In this section you will find the best custom Pop It Birthday Party Shirt. The best part? They are designed by me! Please feel to reach out on Etsy with your ideas – I can make your dream birthday shirt idea come to life. Here's my current top seller.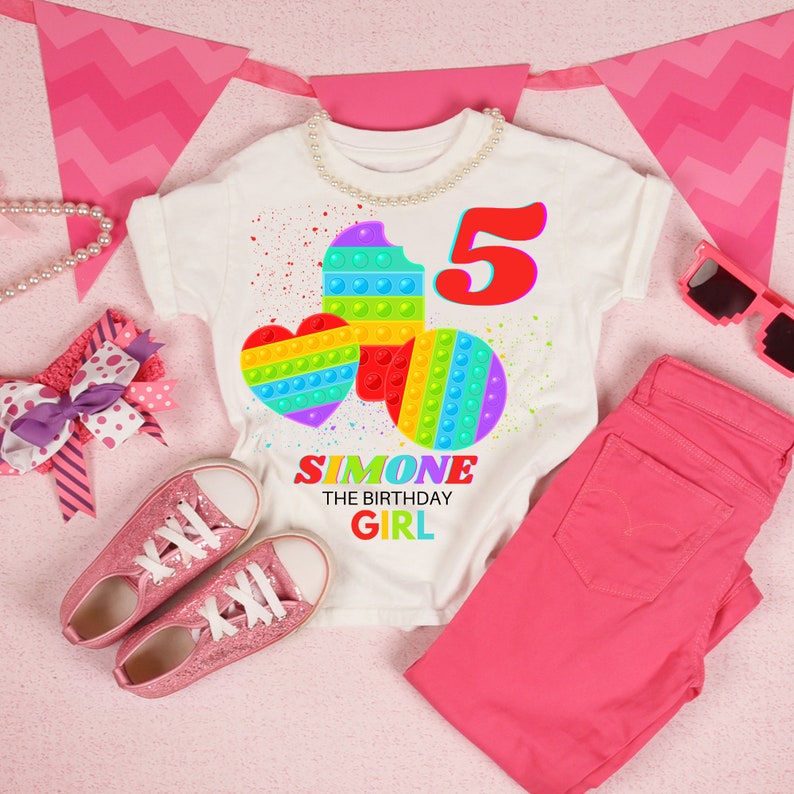 Personalized Pop It Birthday TShirt
This custom Pop It Birthday party shirt can be designed in any color scheme with the pop it toy of your choice. Please feel free to reach out on Etsy and let me help you design the perfect birthday tshirt.
Fidget Birthday Party Decor Finding pop it party decor has proven to be rather difficult. There isn't nearly as many options as I'm used to when planning a child's birthday party, but remember you can still throw an epic birthday party for kids without a ton of themed decor. With this theme you could include a mix of rainbow, tye die and solid color decor. Even though there isn't a ton of fidget decor let's see what I was able to find.
Amazon finally jumped on the fidget party band wagon and has lots of pop it party decor to choose from. This rainbow set is one of many party kids available on Amazon.
Rainow and Swirls Fidget Party Pack
We went from having no Amazon options to many. Here's another great pop it party kit that includes everything you need to decorate for your party.
Decorate your cake to match your fidget theme with this fun cake topper. There's 5 different options to help you find the perfect one for your party.
If you are into simple decor, here's the perfect party banner to help your pop it loving child celebrate their birthday.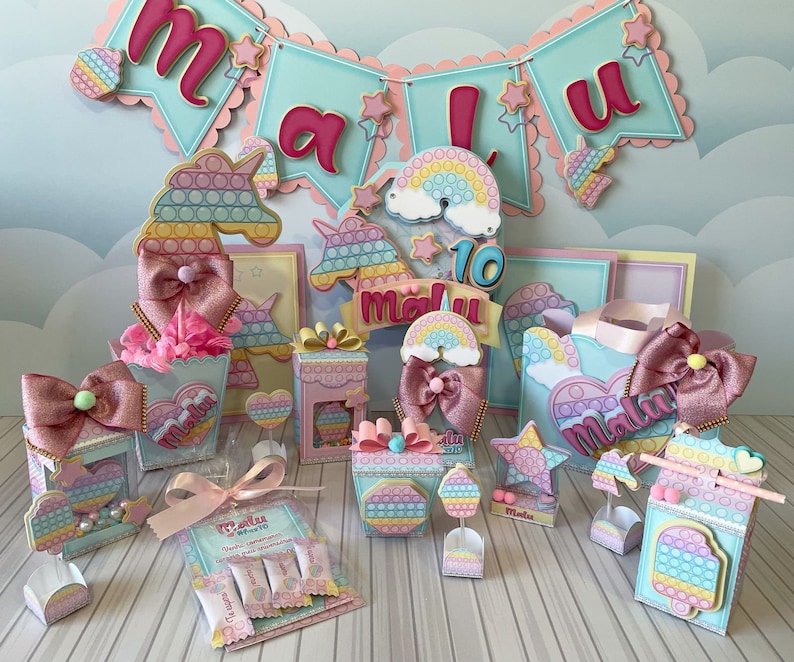 This pastel pop-it decor kit from Etsy is a great all inclusive decor kit that includes lots of pieces to help you set the scene for a fun fidget birthday party.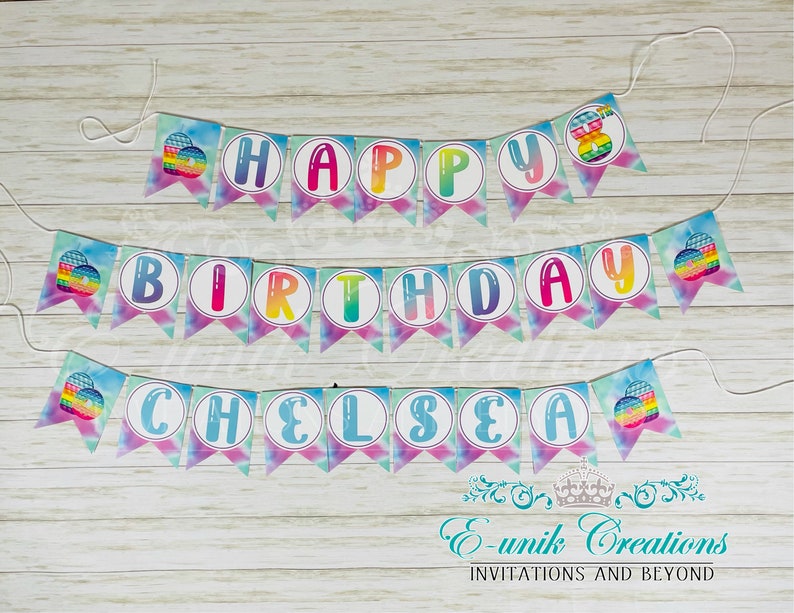 Birthday banners are a simple yet effective way to decorate for your child's birthday. This adorable fidget themed banner can be found on Etsy and helps add a perfect touch to your theme.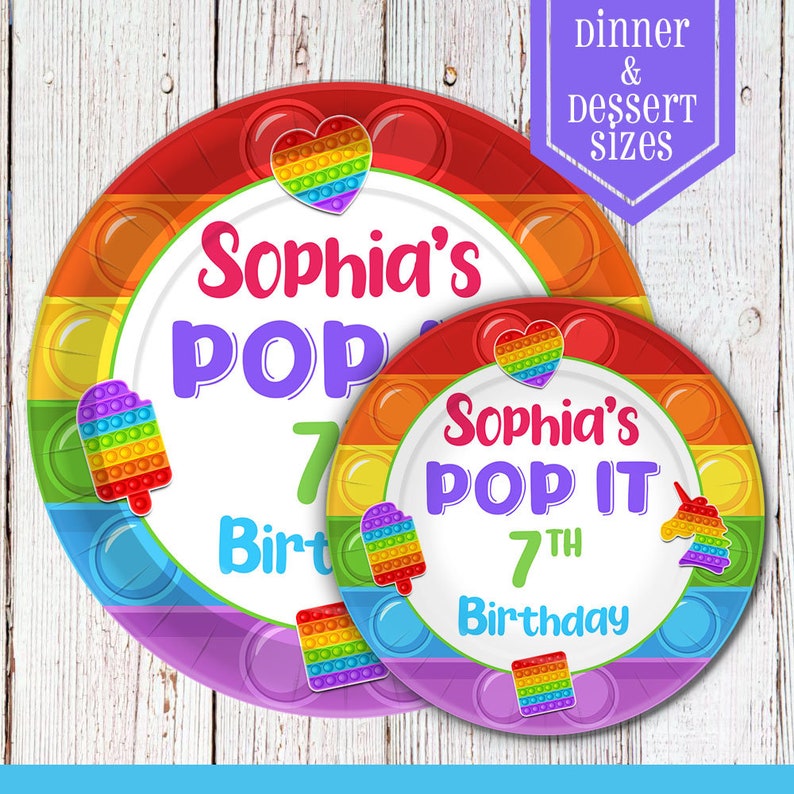 If you are a long time reader of the TIH you know I love decorating for parties with tableware, but doing so with this fidget theme seemed impossible until I found this set on Etsy.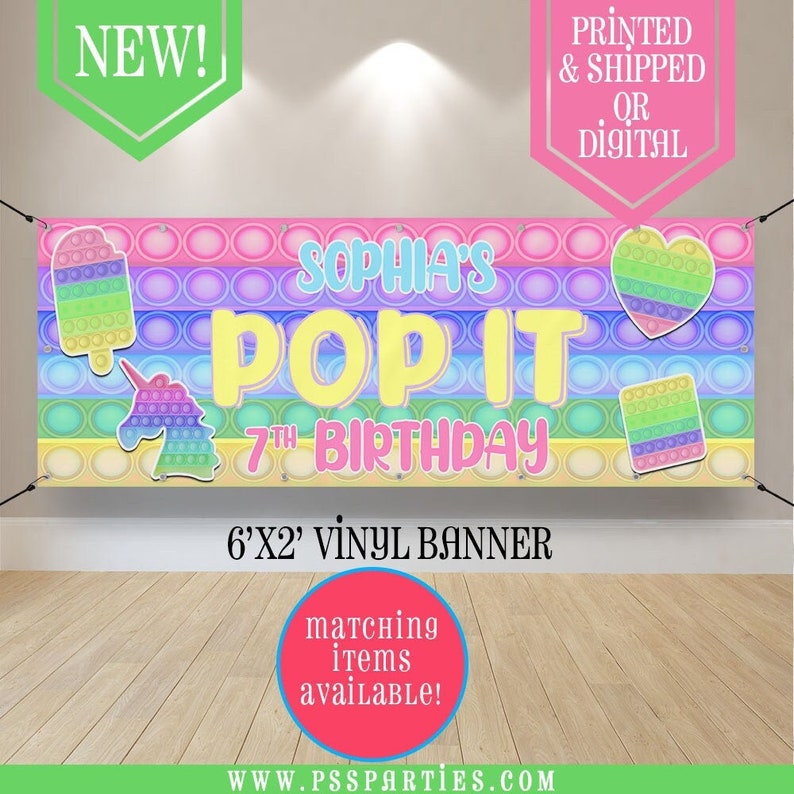 Party banners are a great way to set the scene for any party and this fidget themed one is perfect for your party.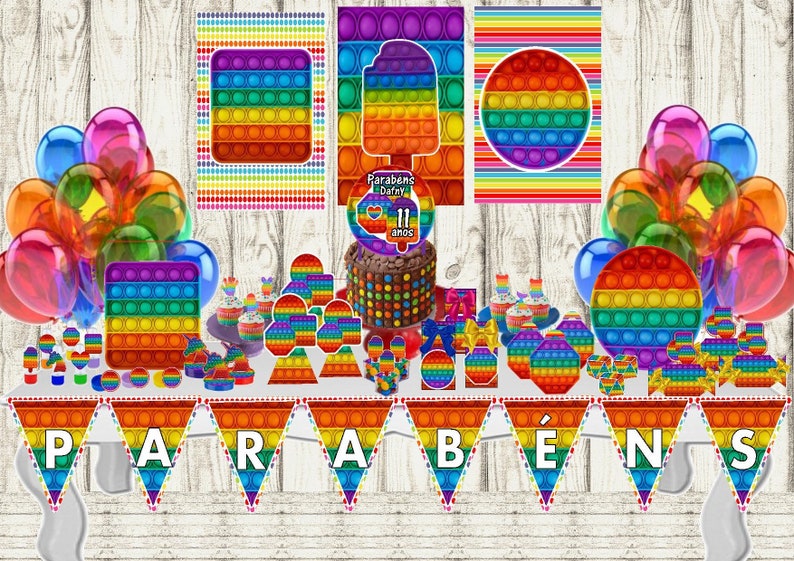 Here's a kit that includes nearly everything you need to create an inviting space for your guests.
Fidget Party Favors One of the best parts about throwing a fidget themed party are the party favors. Not only can you gift your guests with a new pop it or fidget, but I also found a bunch of other fun favors to consider.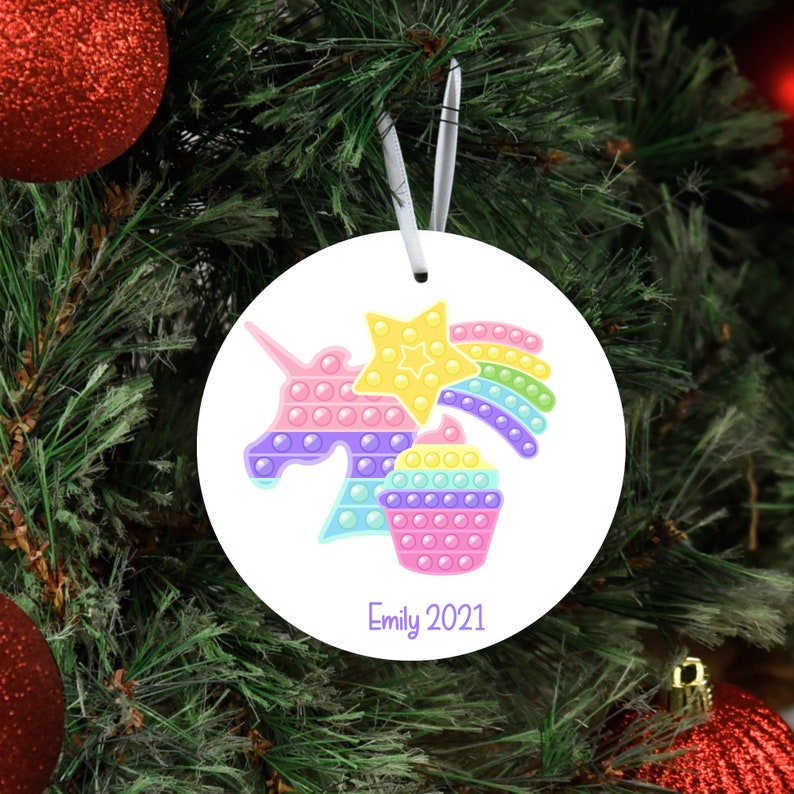 Personalized Pop It Christmas Ornament
If you are hosting you Pop It Birthday in the winter months these personalized Christmas ornaments make adorable party favors. There's lots of custom Pop It Christmas ornaments available in my Etsy shop.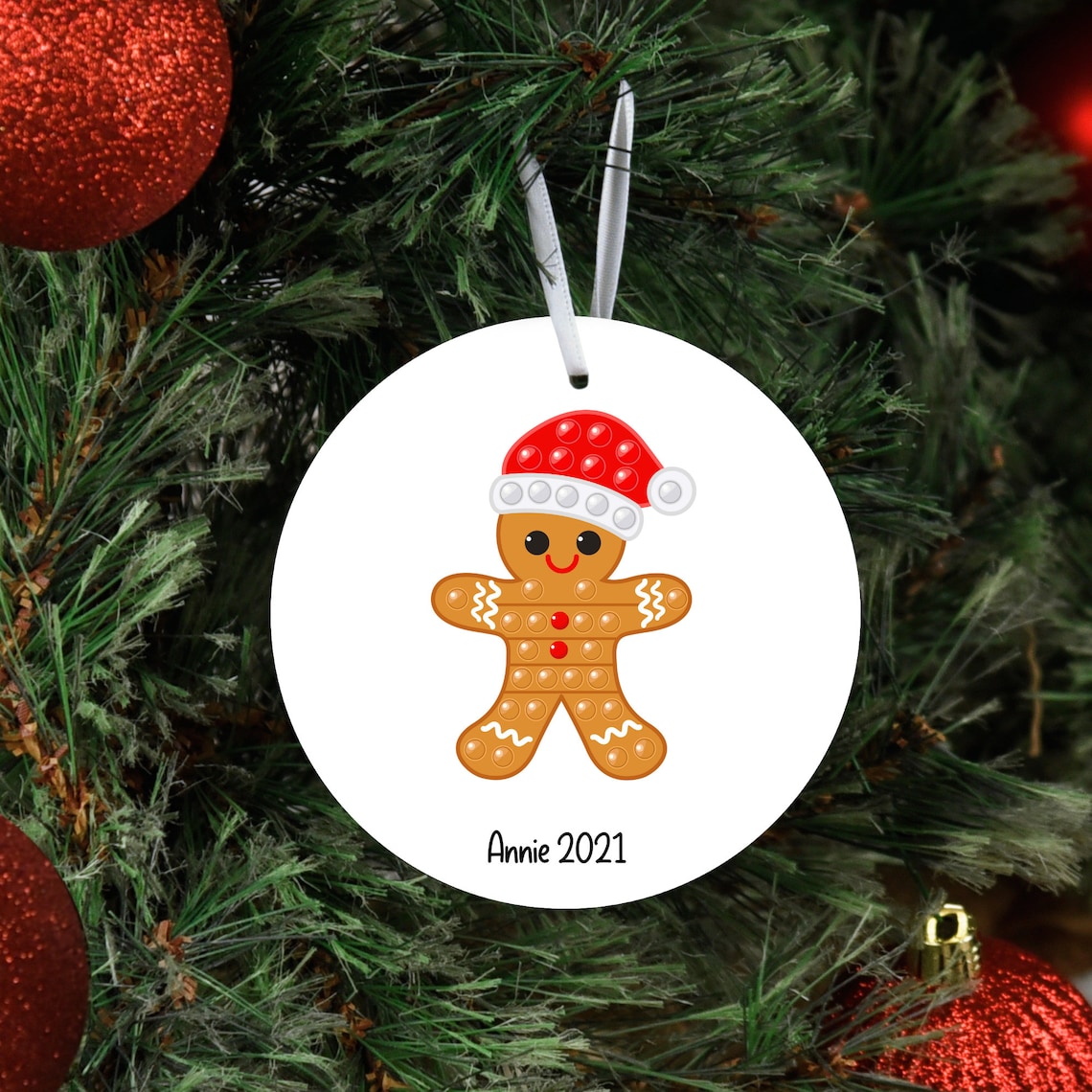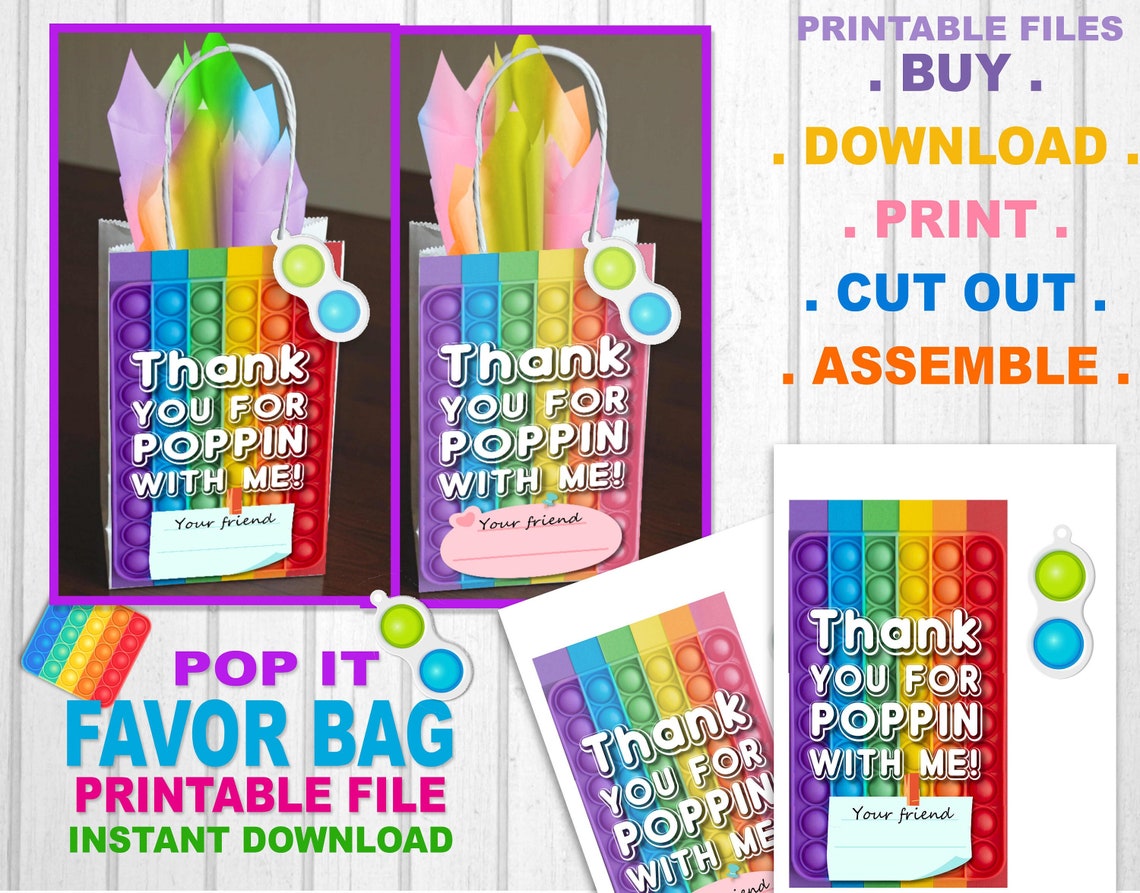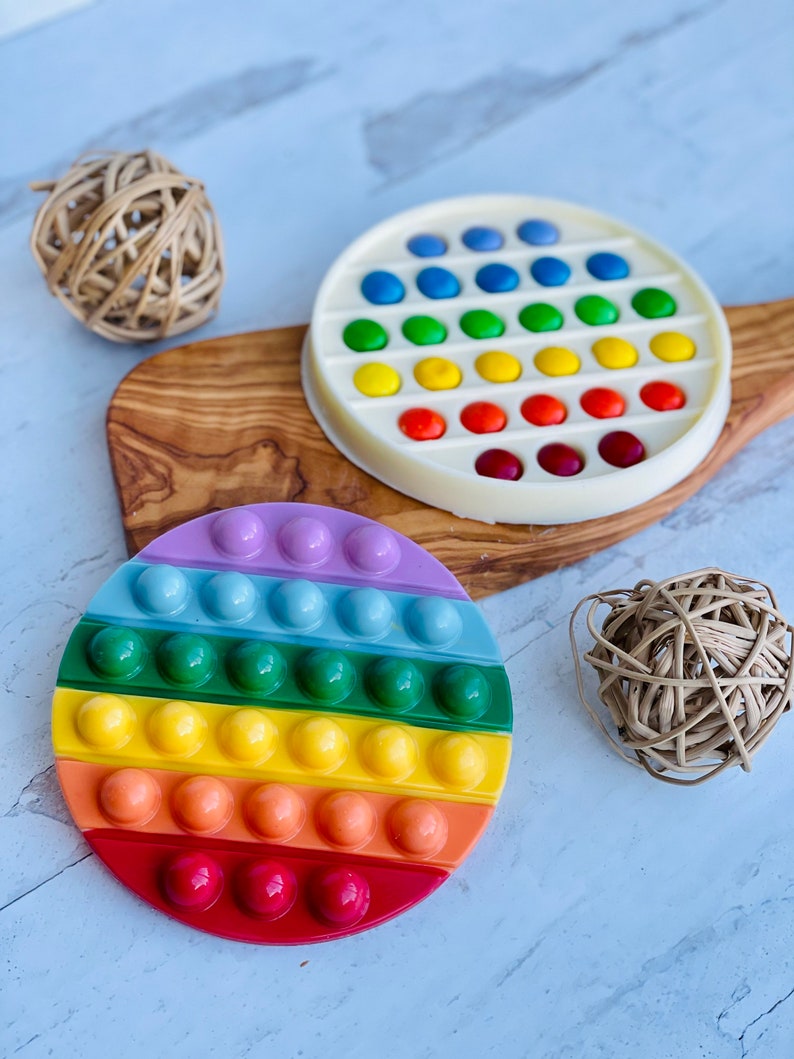 What's better than playing with a pop it? Eating one! These delicious chocolate pop it favors are the perfect addition to your party favor bags. I bet these are a HUGE hit with your guests.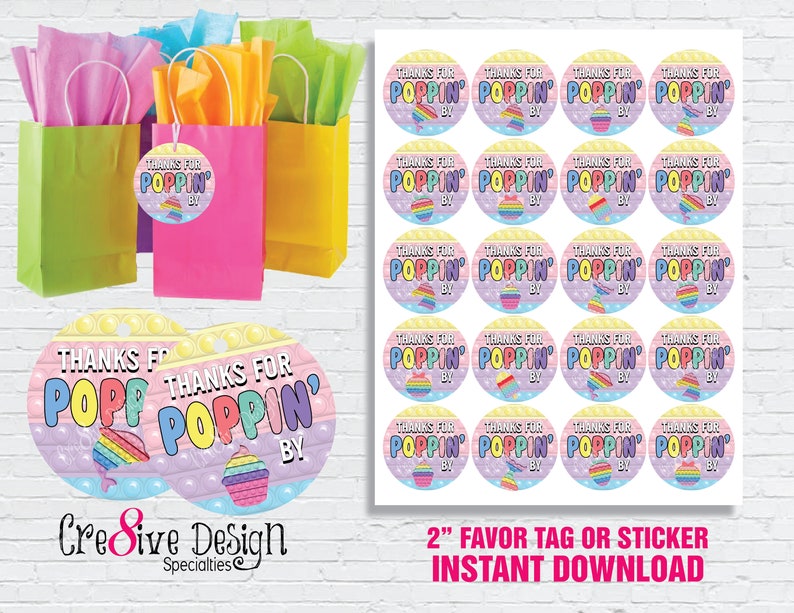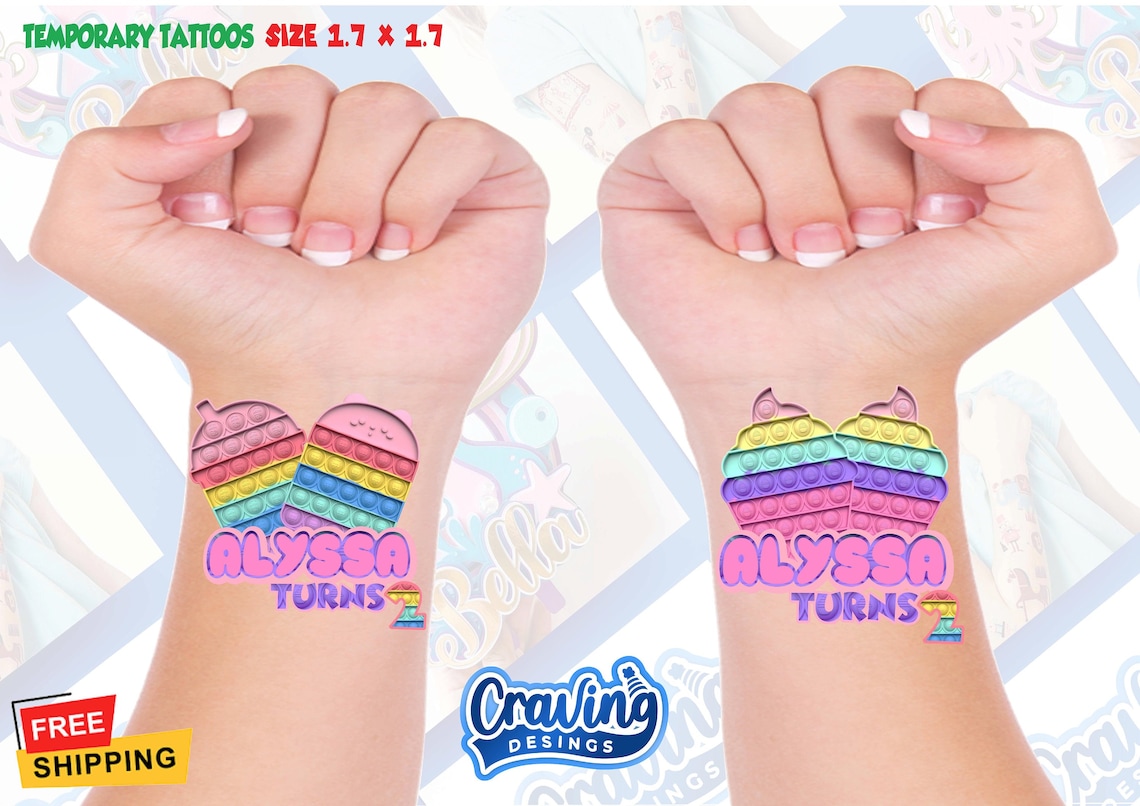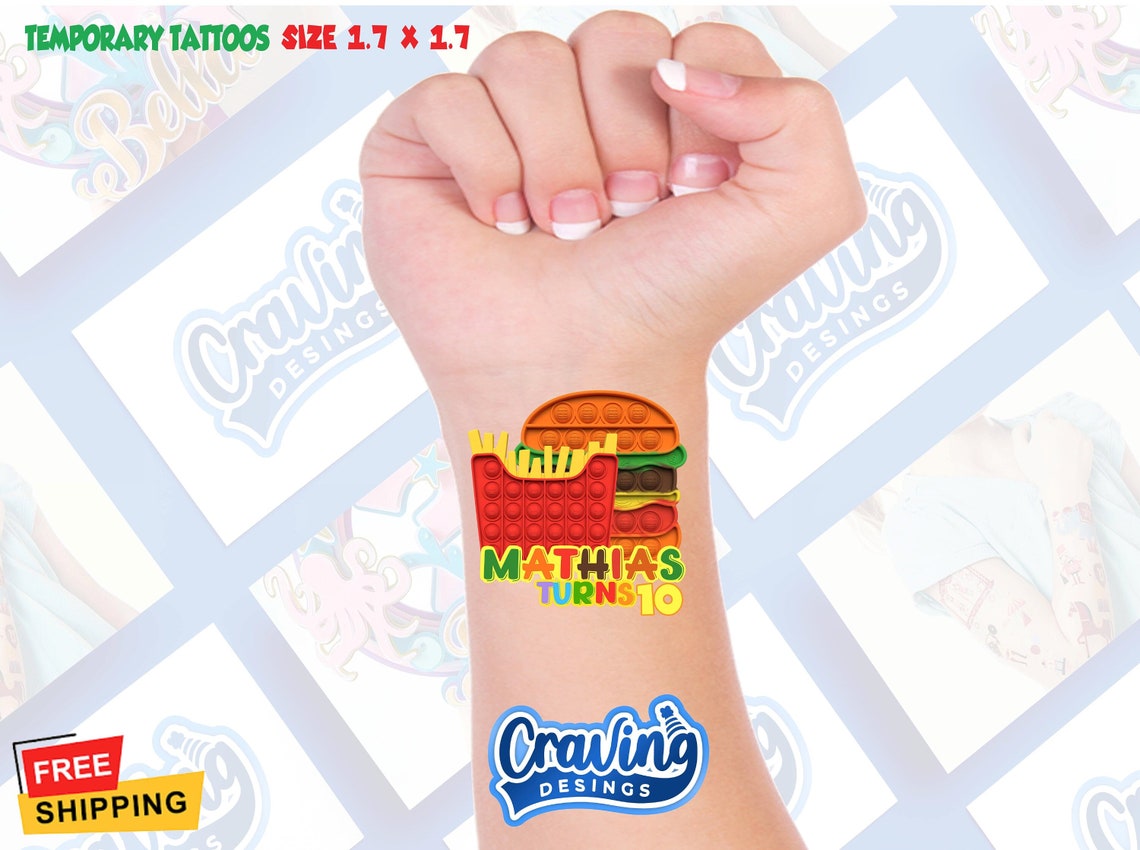 We can't forget some actualy pop it and fidget favors
What could be better than a fabulous birthday cake pop it favor?
Cupcake pop its also make a great birthday party favor.
I love the idea of giving out pop it notebooks as party favors.
Cake Toppers and Dessert Table Ideas If you aren't planning a custom birthday cake for your birthday here's a great selection of cake and cupcake toppers.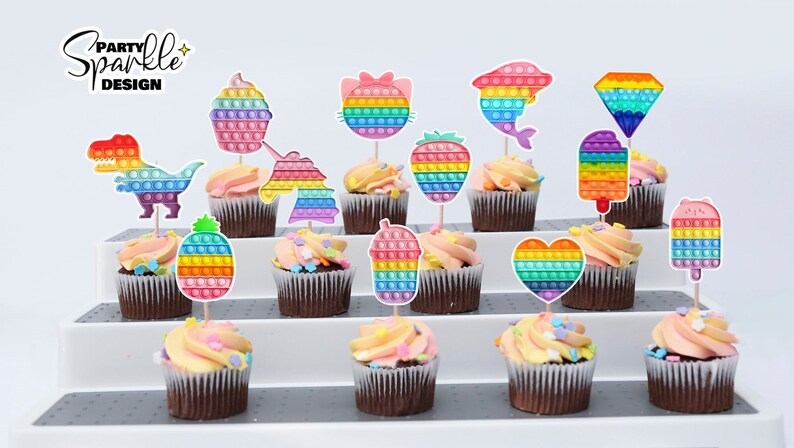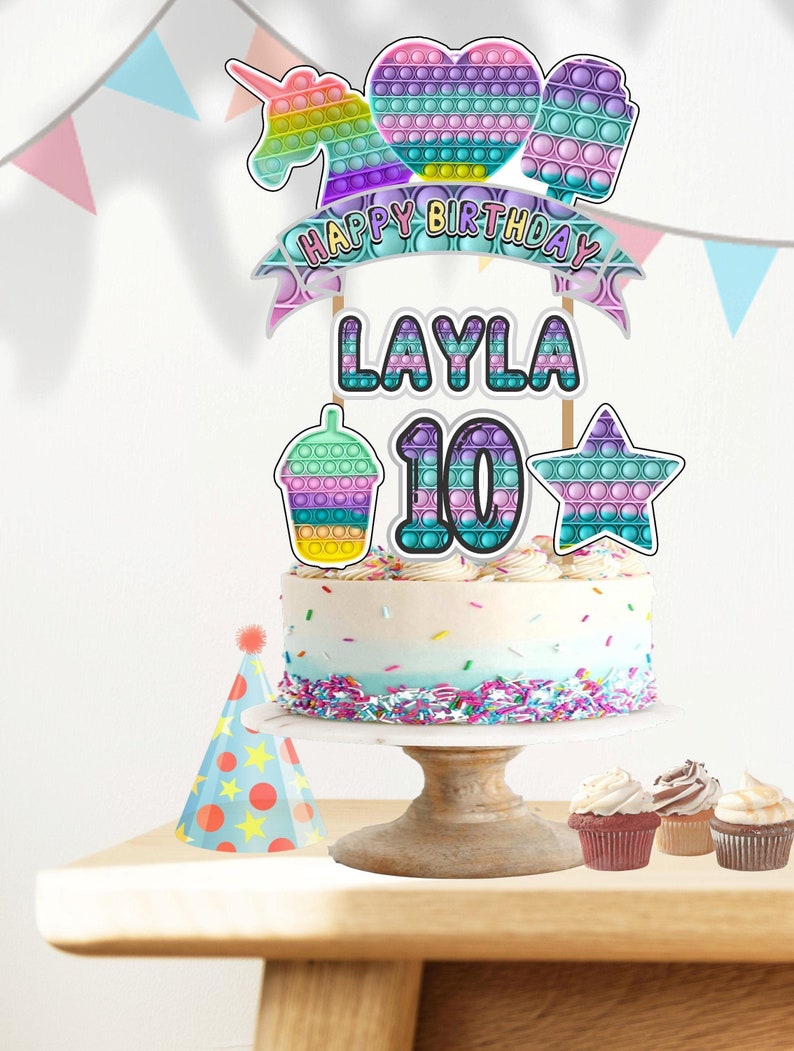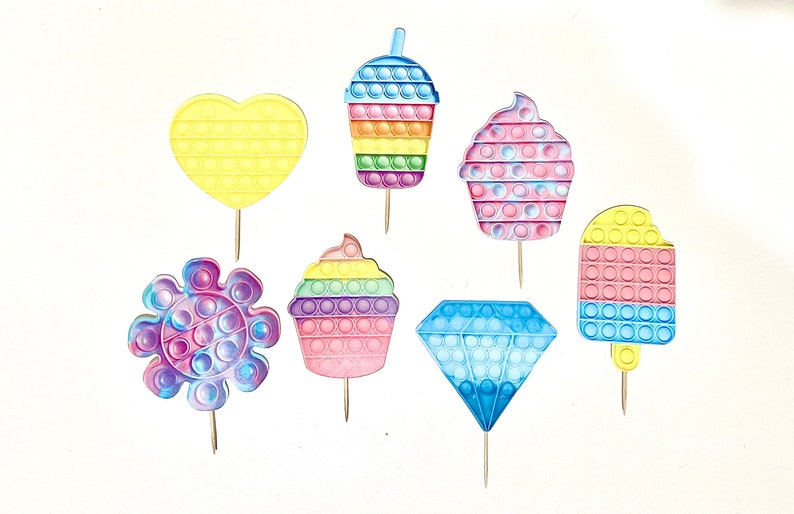 Hopefull you found some EPIC pop it birthday ideas to help you celebrate your little one this year. If you like your pop-it birthday to be featured on The Inspired Holiday please conact me at ryan@theinspiredholiday.com