This post contains affiliate links which means if you make a purchase using a link on this page I may make a small commission. For more information please read my full disclosure 
Tik Tok has taken the social media world by storm! Chances are if you have a teen or tween in your home then you know all about Tik Tok. The app has become so popular that Tik Tok birthday parties are now one of the top party trens for the tween/teen crowd.
Thanks to being home so much, Tik Tok has only grown in popularity. Being Tik Tok famous is now the dream of many young people – including my own kids. Wouldn't it be fun for them to live out their Tik Tok dreams for their next birthday?
Well, you can exactly that with these great Tik Tok birthday party ideas. 
The Best Tik Tok Birthday Party Ideas
TIK TOK BIRTHDAY PARTY DECOR
Everything you need to decorate for a small Tik Tok birthday party. You get a birthday banner, tablecloth, plates, balloons, cake topper, and cupcake decorations.
Tik Tok Birthday Shirts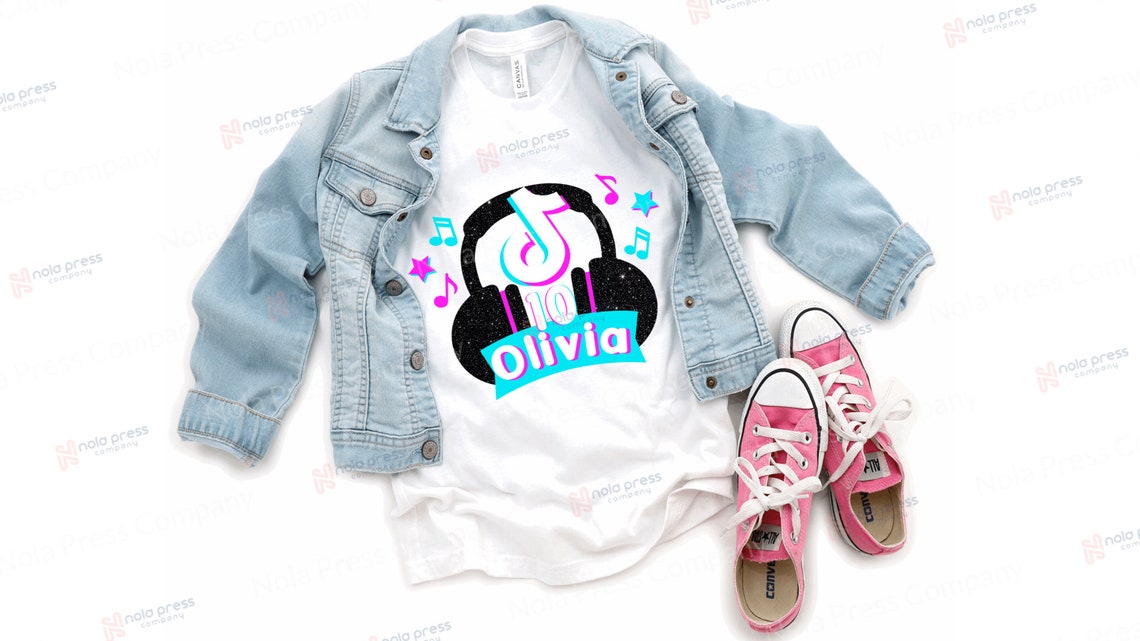 Personalized birthday shirts are always a great accessory to any party. Check out this festive Tik Tok design from Nola Press Company from Etsy. Have your birthday star stand out from the crowd with this fun piece of birthday attire. 
This Tik Tok Famous t-shirt is a great idea for the birthday hostess to wear not only because it's cute but they can also wear it long after their party ends. It comes in a variety of colors and ships quickly from Amazon.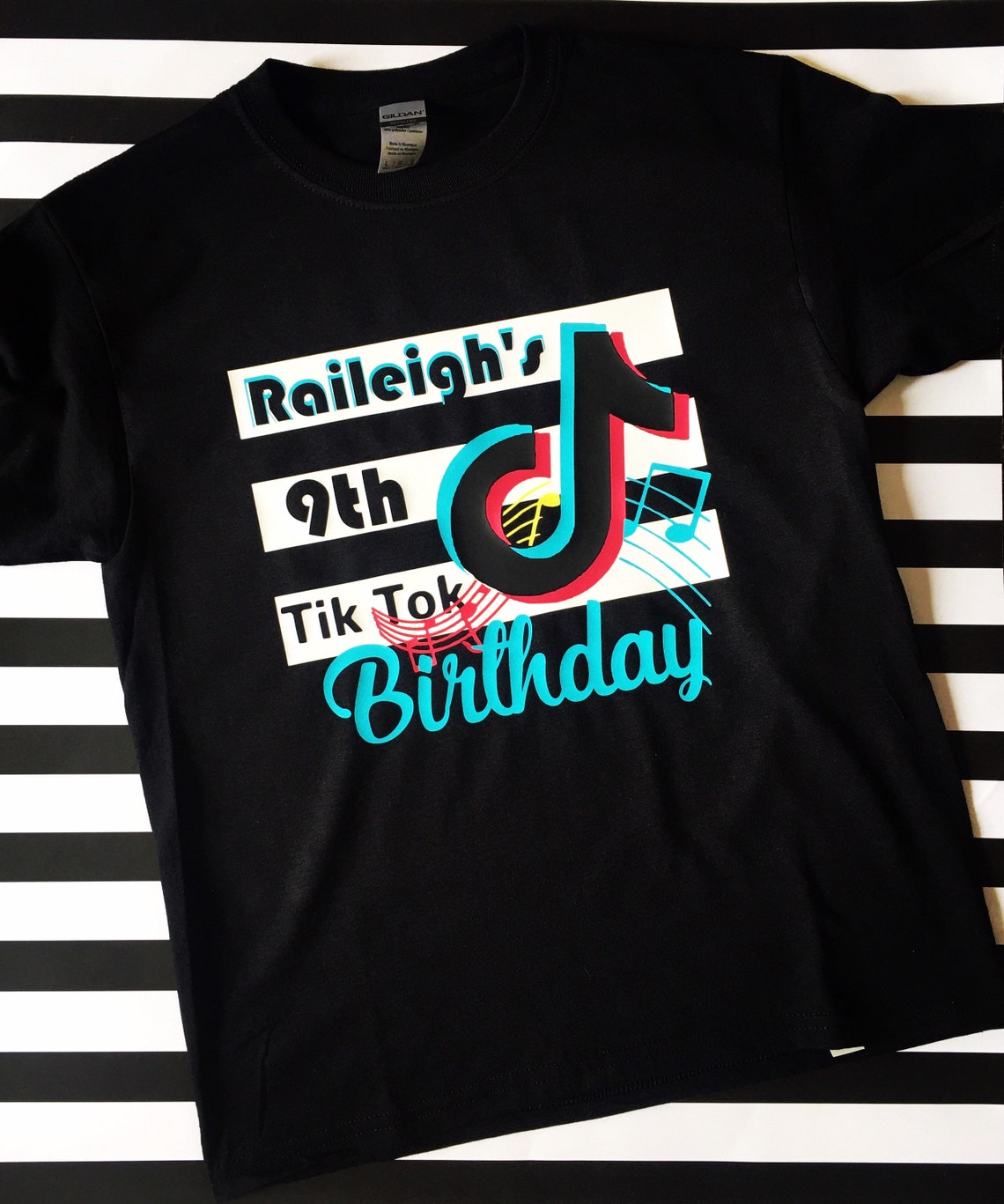 It's no secret that boys love Tik Tok just as much as girls so this unisex tee is perfect for any Tik Tok fan. 
TIK TOK BIRTHDAY CAKE IDEAS
Tik Tok Birthday Cake
This Tik Tok birthday cake found on Cake Central is the first thing my daughter found when searching for Tik Tok party ideas. The cake artist Danceita Medina is incredibly talented. 
Side note: Have you seen any of the cake artistry videos on Tik Tok? They are mesmerizing. Cake decorating is such an art form. 
If your Tik Tok fan prefers homemade or ice cream cake this Tik Tok cake topper is a great way to keep it within the theme. 
Tik Tok Glitter Cupcake Toppers and Liners
Maybe your birthday Tik Tok star loves cupcakes. If that's the case these sparkly Tik Tok cupcake toppers and liners are absolutely adorable. 
Tik Tok Photo Booth Ideas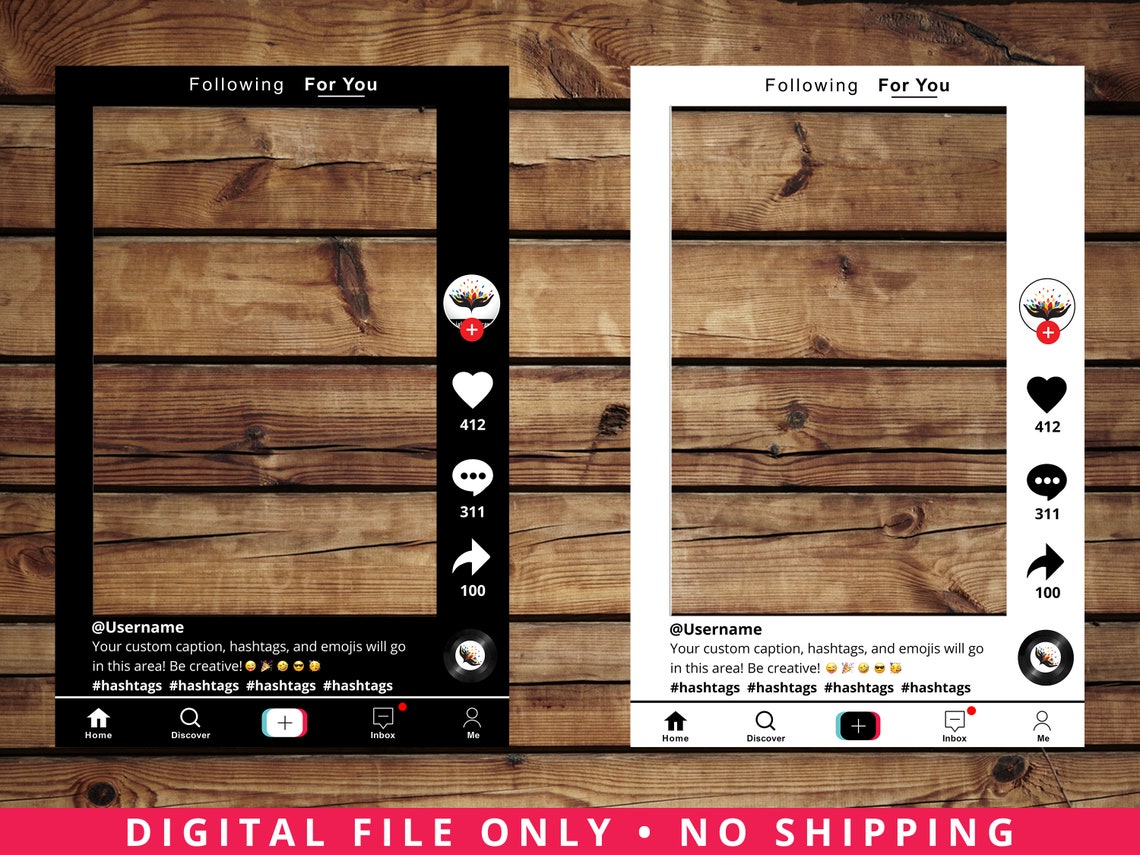 Be the Tik Tok star of your dreams with these great photo booth prop from Social Club Frames on Etsy. Your party guest with love the chance to get creative with these fun props. Please note that this is a digital item so if you decide to purchase you will need to print them at home or at a local print shop. All directions can be found directly on the shop listing.
PRO TIP – Do not shy away from digital products. I know the idea of printing items on your own seems daunting, but the truth is it's much easier than you think. Purchasing digital party items now only allows you to create a gorgeous party using a hard to find theme but it also can make your party decor really come together. 
Tik Tok Party Favors
This Tik Tok themed backdrop makes for a perfect photo booth for you and your guests.
Live out your Tik Tok star dreams with this fun photo frame. 
Balloon Arch Photo Back Drop
Go all out with this over the top balloon arch photo backdrop. Treat your guests to a one of a kind photo backdrop experience. 
What's a photobooth without props. Here are the best Tik Tok photobooth props for your party. 

Look at these adorable Tik Tok party favor boxes – aren't they adorable? Something about this party favor box design is so striking to me. Tacey Party Decor has such an eye for design, don't you agree?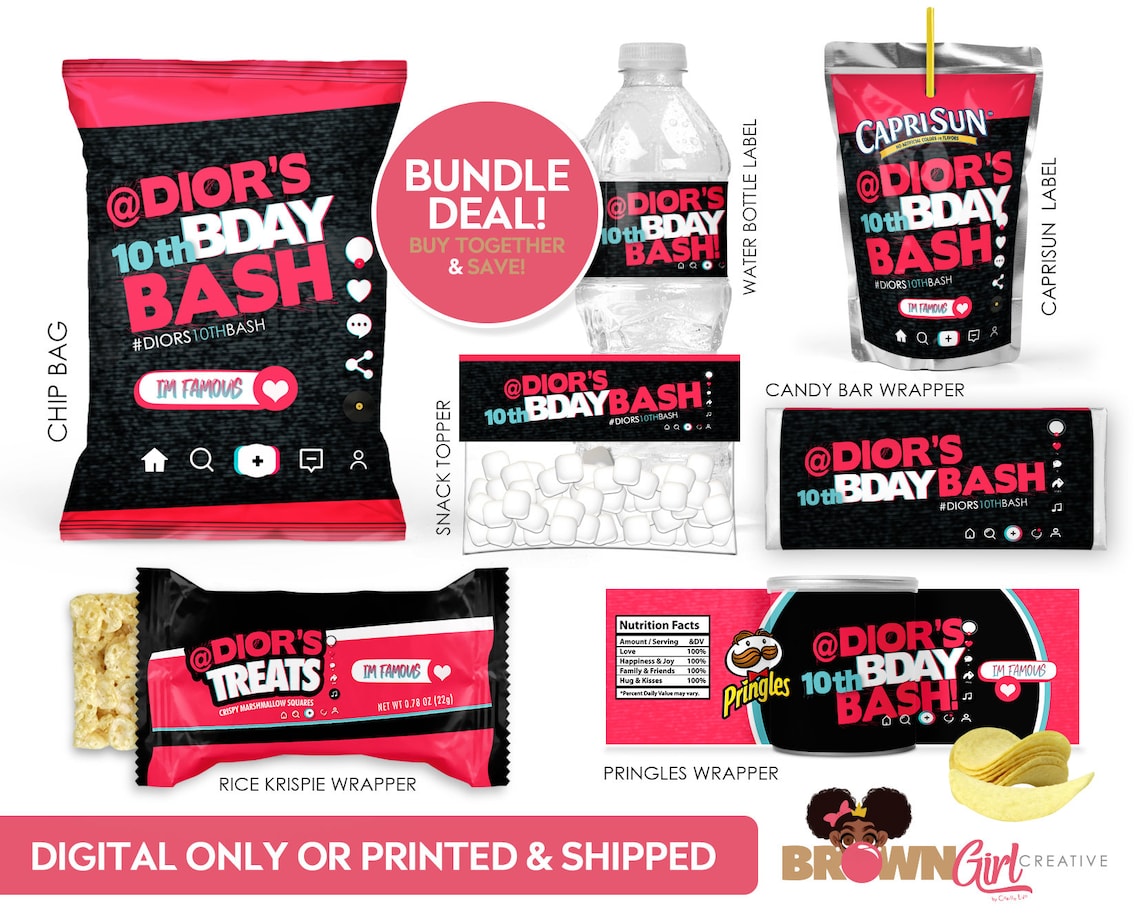 Brown Girl Creative outdid herself with this gorgeous Tik Tok party favor pack. What else could you need? In this pack you can get chip bag covers, juice box designs, water bottle stickers, rice Krispy wrapped and so much more. The best part? She offers a print and ship option so you don't have to print at home. Digital or shipped this Tik Tok party favor pack is perfect for your next party.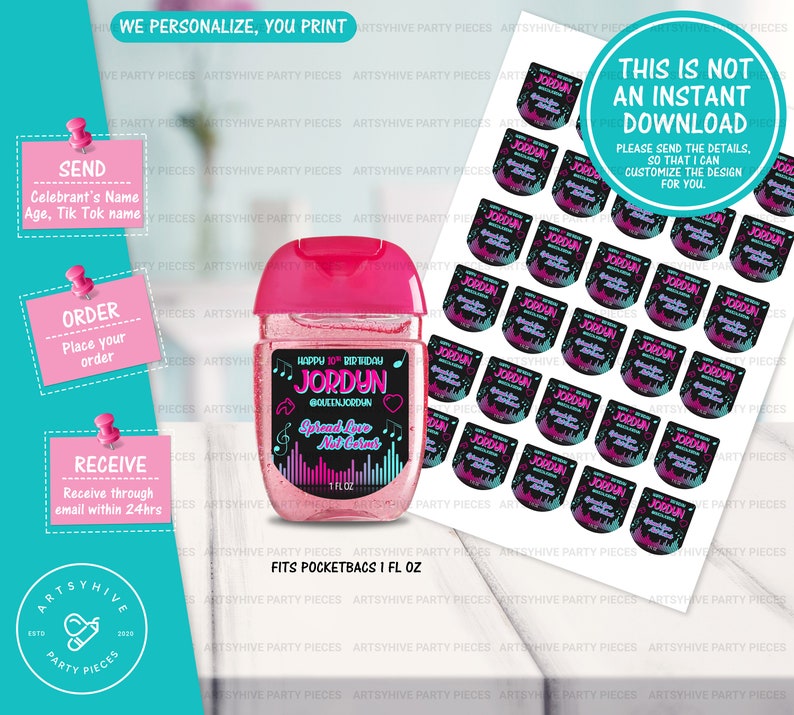 In today's current environment, safety is everyone's number one priority. These Tik Tok hand sanitizer labels from Artsy Hive are the perfect addition to your party. Instead of handing them out at the end of your event, you can give everyone their own personal themed hand sanitizer when they enter your home or venue. 
Tik Tok bracelets are a party favor everyone will love. 
Custom Tik Tok Sugar Cookies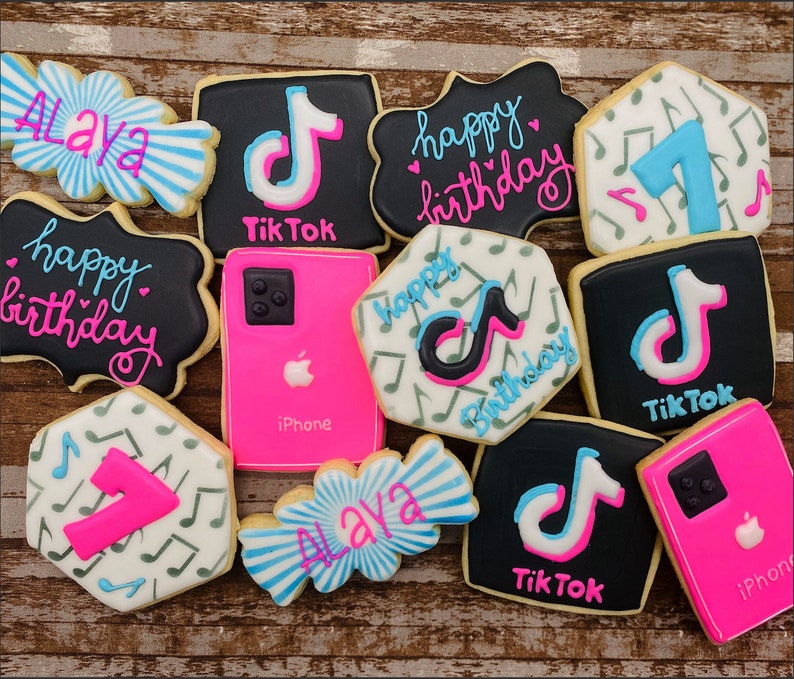 Perfectly crafted themed sugar cookies are still one of the most sought after party favors. These Tik Tok sugar cookies from The Cookie Queen Shop on Etsy are the perfect addition to your party. They would look gorgeous on a curated dessert table or as part of your place settings. You can never go wrong with a beautifully designed cookie favor.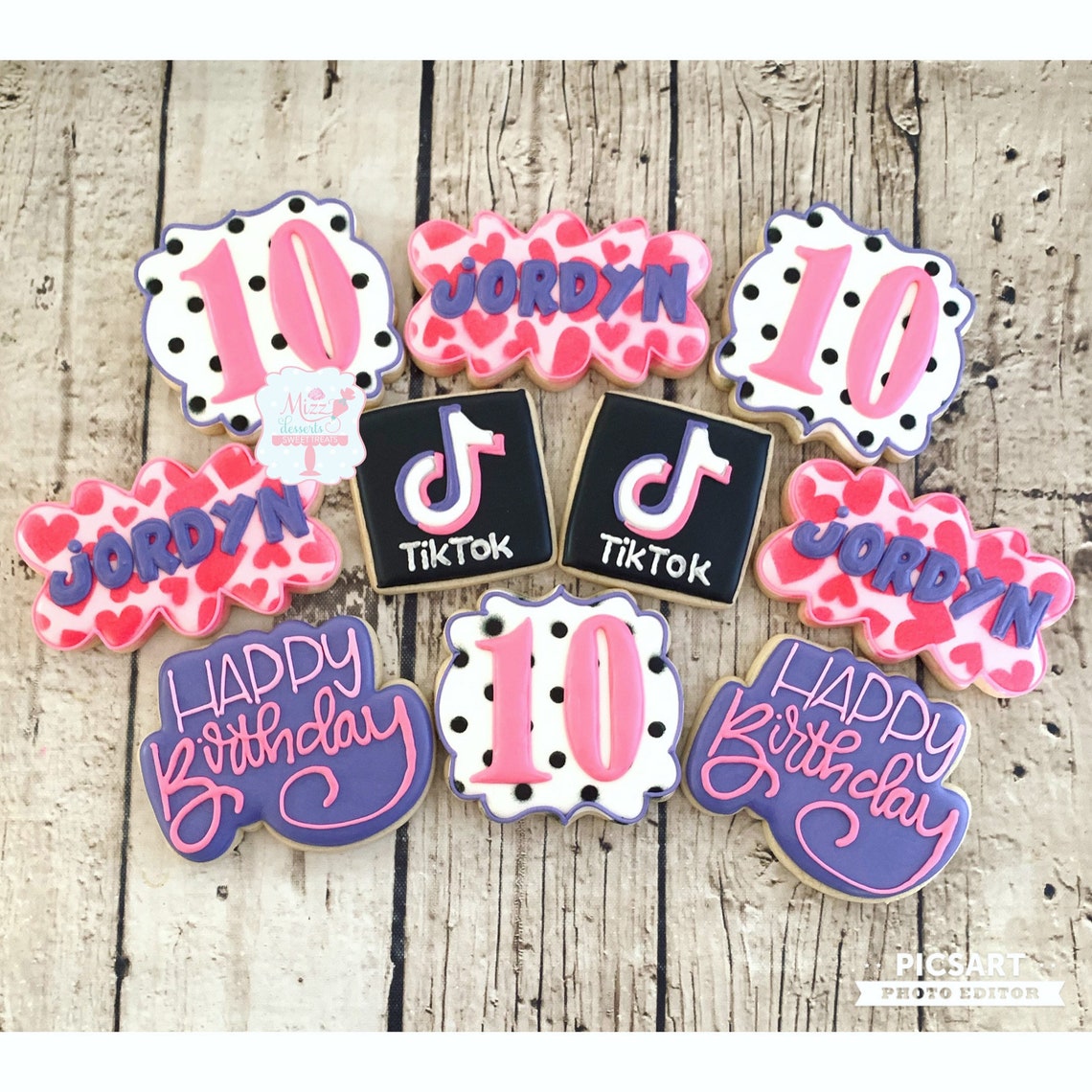 These pink and purple themed Tik Tok birthday cookies from Mizz Desserts are an artistic take on the classic Tik Tok logo. Your birthday girl will love the mix of classic Tik Tok and whimsical fun these cookies will add to your party.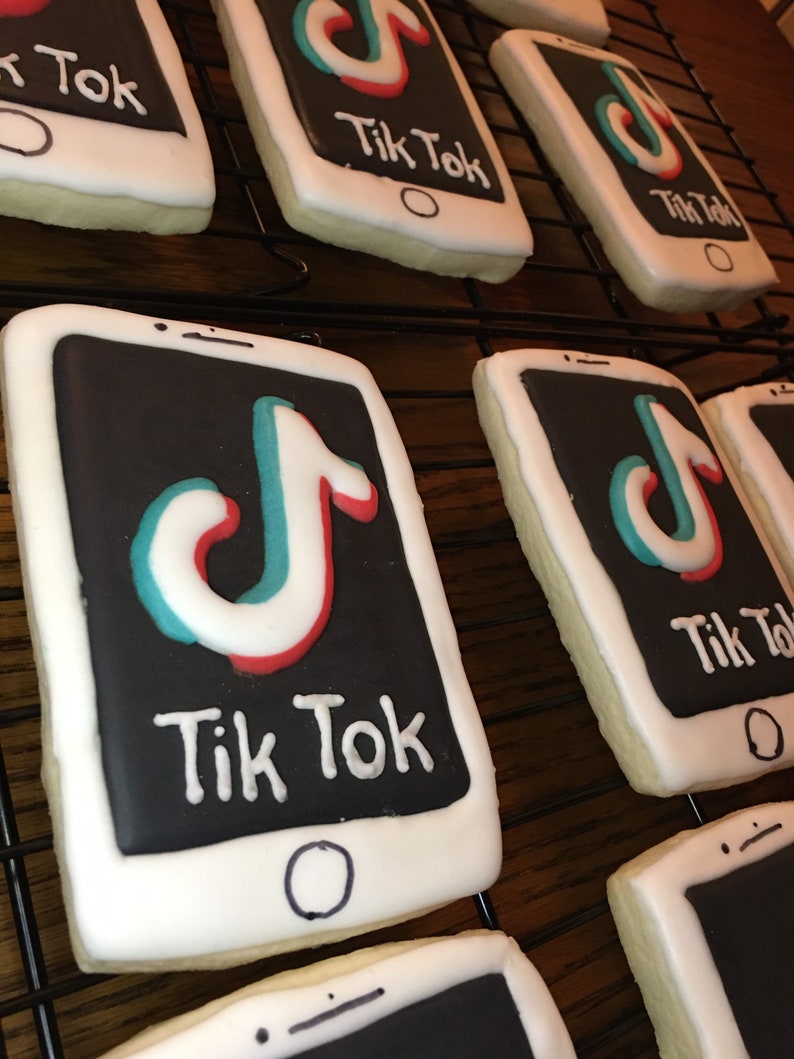 No Tik Tok birthday is complete with a set of Tik Tok logo cookies for your guests. These delicious logo cookies from Baking and Ballin will make a great party favor.