This post contains affiliate links which means if you make a purchase using a link on this page I may make a small commission. For more information please read my full disclosure 
This guide to the best Gabby's Dollhouse birthday party ideas is our first installment of the best birthday party themes for kids this year. Gabby's Dollhouse is currently one of the most sough after birthday themes for kids. As you know, we do our best to stay on top of all the latest birthday trends, especially for kids. Let's see all the cool Gabby's Dollhouse birthday party ideas and supplies we found to help you plan the best birthday party for your little one.
Gabby's Playhouse Dollhouse Party Kits
When it comes to party planning with ease we love ultizing the complete party kits from Amazon. They come with nearly everything you need to set the scene for a fabulous birthday party and the Gabby's Dollhouse kits are no exception.
As you can see, this Gabby's Dollhouse party kit has everything you need to get your party started. You get an adorable birthday banner, a full ballon set, cupcake toppers and a perfectly themed birthday cake topper.
This Gabby's Dollhouse party kit is similar to the one above but with a different set of designs. It also includes balloons, cupcake toppers, a birthday banner and a birthday cake topper. It's up to your design perferences to see which one you perfer for you party.
In the last selection for Gabby's Playhouse party kits you can see the color palette for this set is a touch brighter than the previous two. So if you perfer brighter colors than this party kit is perfect for you party.
Gabby's Dollhouse Photo Backdrop
Photo backdrops are a great way to set the scene for any party. They work great for party favors, a fun activity and or as simple decor. This Gabby's Dollhouse backdrop would make a great addition to your party.
A perfext mix of a little bit of everything to help you decorate for your Gabby's Dollhouse birthday party.
One of my favorite ways to decorate for birthday is with a simple, yet stunning, ballon arch. This is the perfect coodrinating arch really helps bring out the colors and designs of your party decor.
Gabby's Dollhouse Birthday Cake Accessories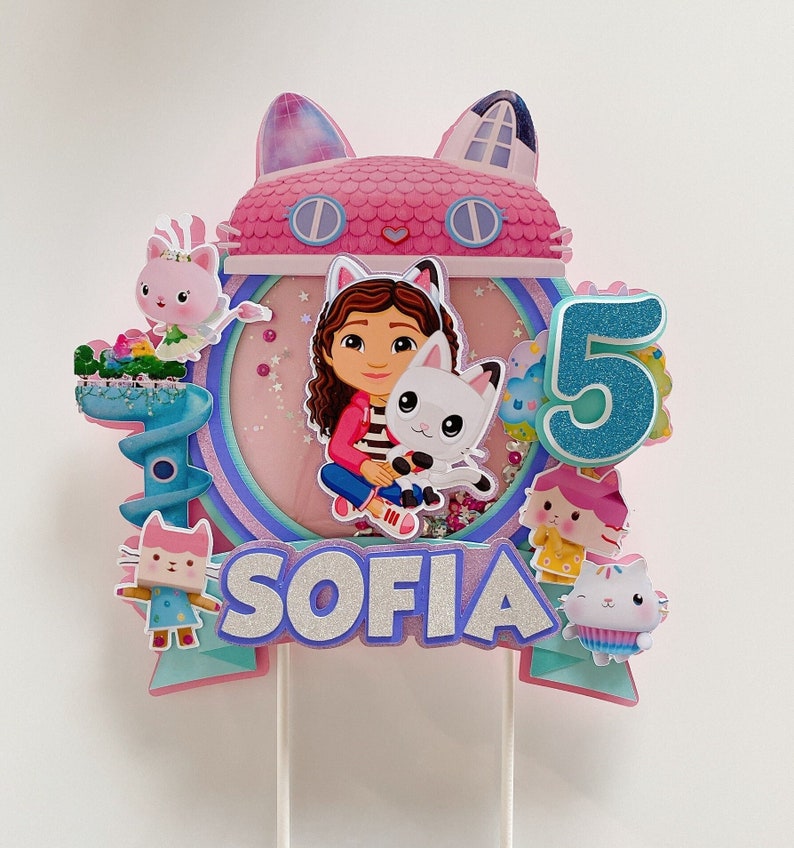 You can serve any cake you wish with this adorable personalized cake topper from Image Fancy on Etsy.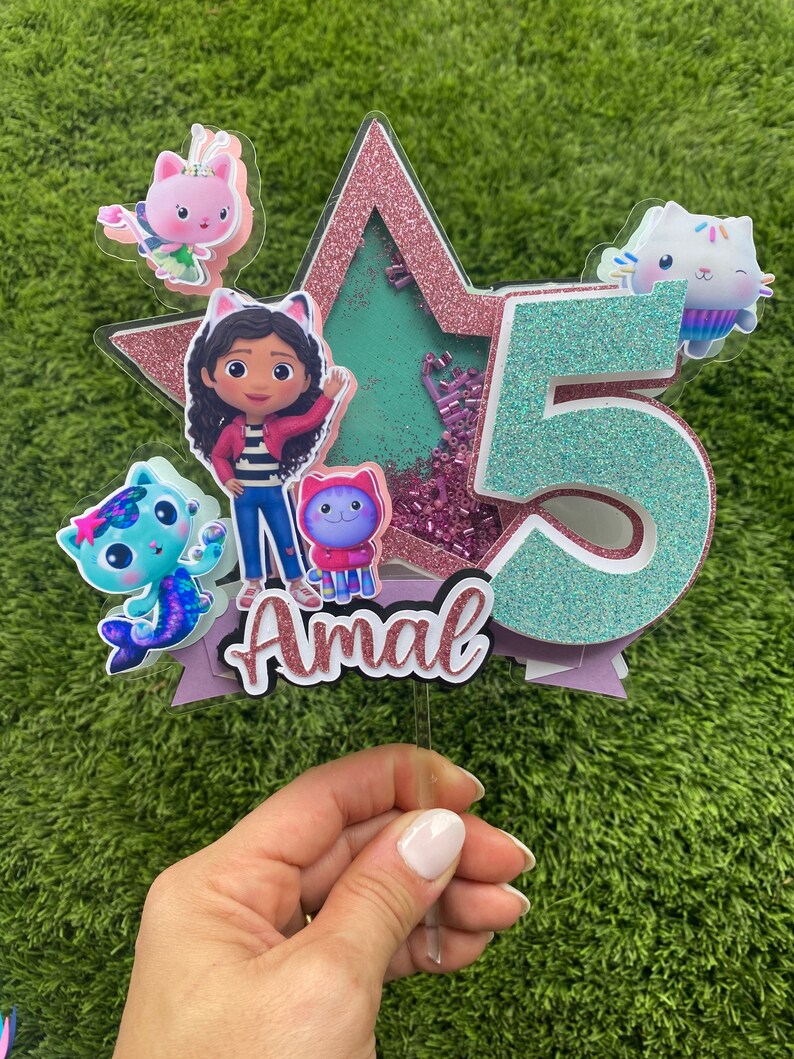 Here's another great cake decoration from Creations By Naty. There are so many great options on Etsy to help you make your cake fit the Gabby's Dollhouse theme perfectly.
Gabby's Dollhouse Party Favors
A great party favor idea for your Gabby's Dollhouse birthday party are these adorable cat headbands. They are inexpensive but are sure to be a crowd pleaser.
These adorable party favor bags are a great addition to any tablescape and are a perfect size to fill up with goodies for your guests.
Gabby's Dollhouse Sticker Book
Sticker books are always a great idea for party favors. Kids love stickers, they are normally inexpensive and make a great presentation. These Gabby's Dollhouse sticker books just hit the market so you could be one of the first to gift these to your guests.
Be sure to boomark this page as I'll be adding new party ideas and supplies for the ultimate Gabby's Dollhouse party. There are tons of new and exciting party supplies coming each day from some of my favorite Etsy party vendors including, invitations, tshirts, cookies, birthday cake inspiration and much more. Let me help you plan a fabulous party for your favorite Gabby's Dollhouse fan.
In the meantime, be sure to check out our other party ideas.