This post contains affiliate links which means if you make a purchase using a link on this page I may make a small commission. For more information please read my full disclosure 
One of the best and easiest ways to spend more time together for the holidays is with a movie night! Halloween movie nights are one of the best traditions to start with your family this year. There are so many fun ways to take your Halloween movie night to the next level. Movie nights, especially holiday-themed ones, are something your family will remember forever. Imagine starting something now that they can one day continue with their own family? Halloween movie nights are fun for everyone. Are you ready to find out how to take your Halloween movie night to the next level? Whether you are hosting a Halloween movie night for your family or friends these ideas are destined to be a hit!
How To Host The Ultimate Halloween Movie Night
Pick a Halloween Themed Movie
First things first, what's a movie night without the perfect Halloween themed movie? Now, let's be real there a TON of Halloween movies out there now thanks to Netflix and streaming. Plus, technically you can say Halloween has its own genre – horror. As you know, I have small children so Friday the 13th – while a classic – isn't exactly first on my 5 years old list when it comes to Halloween themed movies. Who can relate? Don't fret I have a list of 13 Not So Spooky Halloween Movies designed with your family in mind. Thankfully there are so many family-friendly options. We themed an entire night around The Great Pumpkin from Charlie Brown. Halloween themed movie nights can be whatever you want them to be. It's all about making memories as a family.
Set The Scene – Halloween Style
One way to make your Halloween movie night the best it can is by decorating. You can decorate your home for Halloween without breaking the bank. You can even pick up some inexpensive Halloween tableware to use for your Halloween movie night snacks.
Halloween Movie Night Snacks
My favorite part of Halloween movie night? The snacks! I live for a good themed treat and if I'm being honest Halloween themed treats and recipes are my favorite even more than Christmas ::gasp:: Here are some of my favorite Halloween themed recipe posts:
Halloween Classroom Party Ideas
Halloween Themed Treats
Halloween Dinner Ideas
For this next party of planning the ultimate movie night for your family I had to enlist the help of some blogger buddies and their Ahhh-mazzzing Halloween movie night ideas.
Cyclop Cookies by Any Reason Life
Bloody cyclops cookies are easy to make and fun for everyone! They make the perfect Halloween movie night snack.
Melting Witch Hat Bark by Food Meanderings
This Halloween chocolate bark is a combination of dark chocolate swirled into milk chocolate, green candy melts, chocolate-covered bugle cookie witch hats, candy eyeballs and chocolate almond pretzel witch brooms. This is really easy to make and delicious chocolate bark that makes a fun and tasty Halloween treat!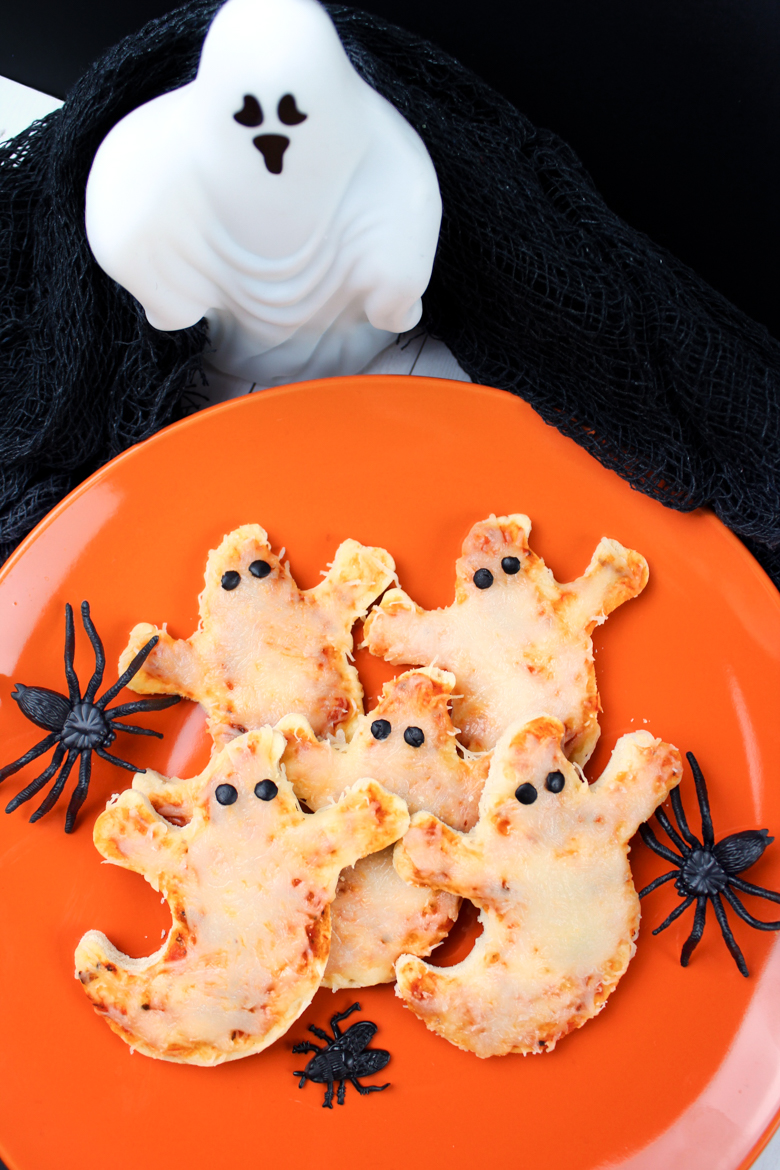 Mini Ghost Pizzas by Crayons and Cravings
Pizza and movies go hand-in-hand. Make these fun mini ghost pizzas for your family to enjoy during your Halloween movie night.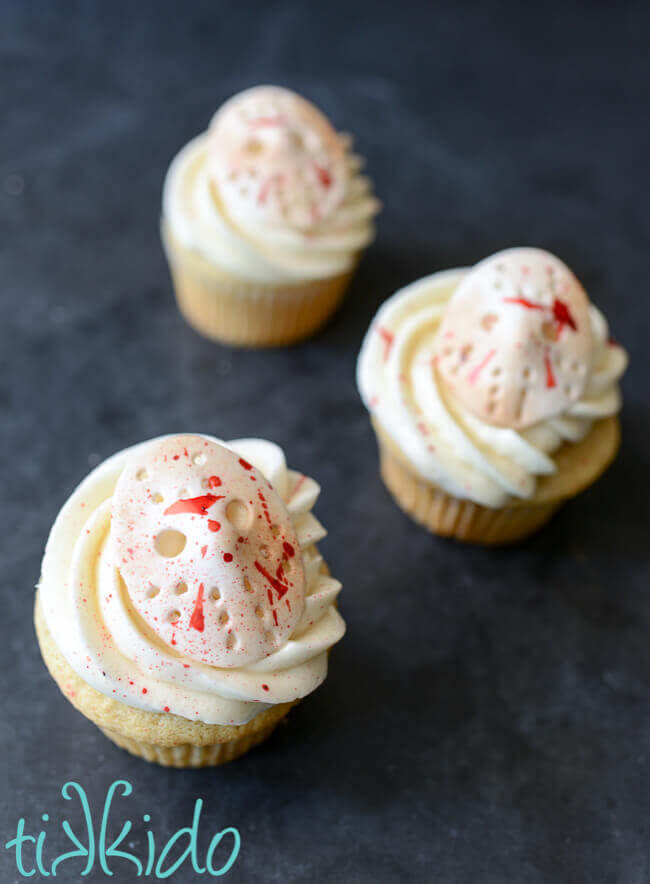 Halloween Movie Cupcakes by Tikkido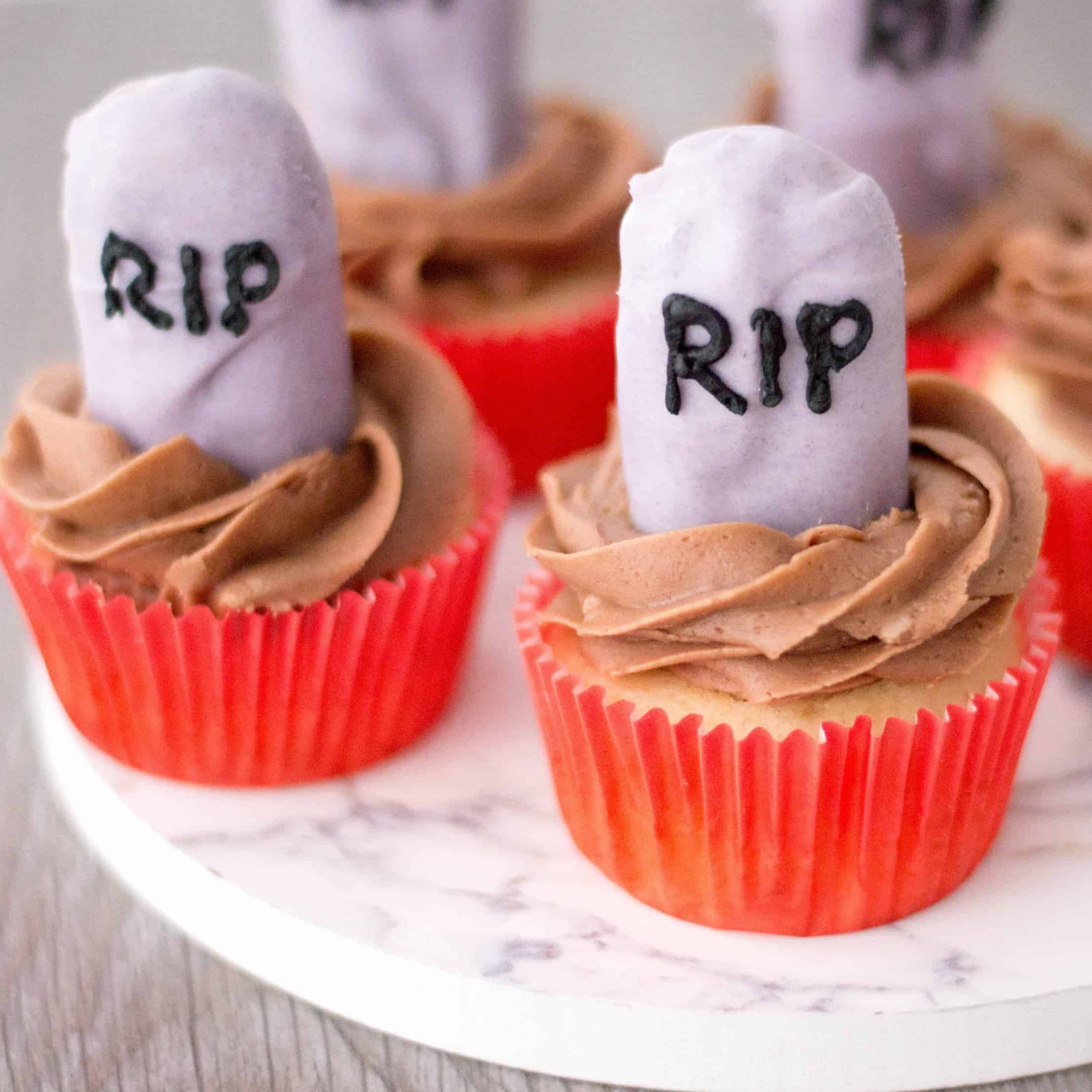 Graveyard Cupcakes by The Inspiration Edit
Halloween is one of my favorite times of the year! These RIP Halloween Cupcakes are the perfect way to make your own spooky graveyard. They will definitely be the life of the party.
Caramel Corn by Our Happy Mess
This homemade caramel corn is crazy simple to make and great for parties and movie nights! Homemade caramel corn makes the perfect food gift too.
Ghost Brownies by Swirls of Flavor
Kids will love our Hot Dog Spaghetti Spiders for their Halloween dinner! Simply thread spaghetti through hot dogs, cook and serve tossed with butter and Parmesan cheese, marinara sauce or just ketchup. An easy recipe that's fun for kids to eat!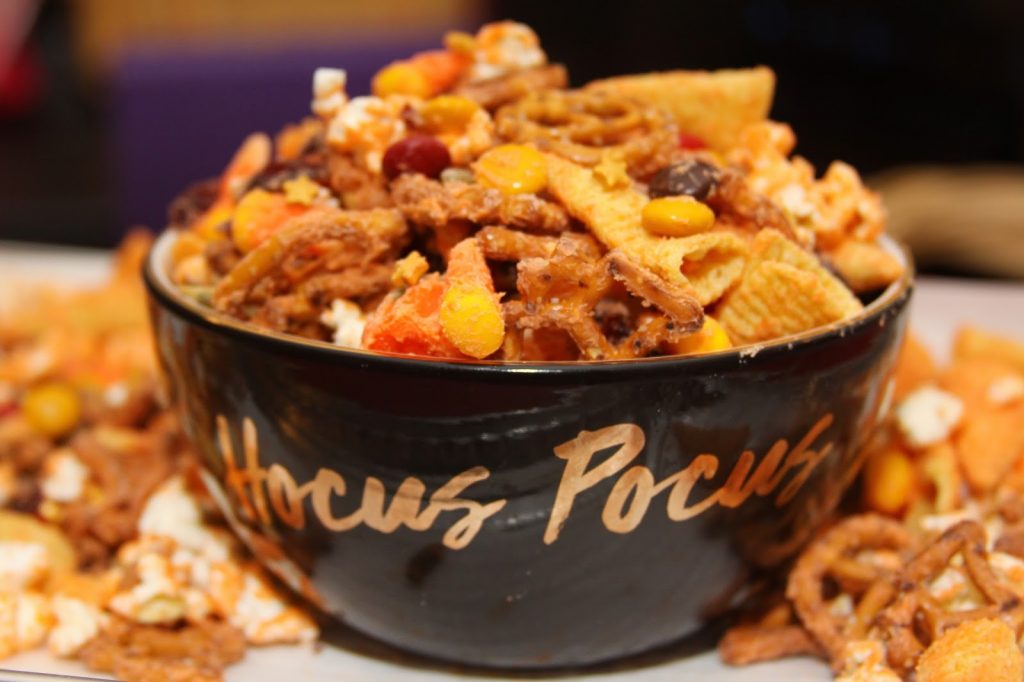 Hocus Pocus Munch from 4 The Love of Food Blog
This Magic Munch Mix is inspired by my favorite Halloween movie: Hocus Pocus. Perfect for movie night snacking or package in snack bags for a spookily delicious treat!
Monster Brownies by The Sweet Simple Life
These monstrous Halloween brownies are every bit as easy as they are spooky. And with just a few store-bought ingredients, you can whip up this frightful treat in just 20 minutes.
Little Sunny Kitchen Finger Cookies
So if you're looking for a Halloween recipe that you can make with the help of your children, this recipe is perfect for you! It's a great activity, and these cookies are so tasty too!
Mummy Rice Krispy Treats by Pink Fortitude
How stinkin adorable are these Mummy Rice Krispies Treats? Wait… they are gluten-free and vegan? AND easy to make? Surely you jest! Yes, my friends, it IS possible! All you have to do is know how to substitute your old favorites with your new favorites. These treats are the perfect Halloween treat for kids of all ages
Have Fun!
Here's hoping you found a few new ideas to make your next Halloween movie night one to remember!